Serbia To Hold Elections On January 21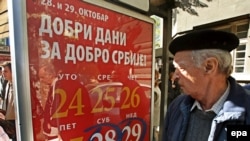 A man reads a poster urging Serbs to vote in the constitutional referendum, which was held in late October (epa) November 9, 2006 -- Serbia's main political parties agreed today to hold legislative elections on January 21.
However, an official said party leaders still have to negotiate the date of early presidential elections.
Elections at all levels are to be held following the adoption of a new constitution.
The constitution was ratified on November 8 by the Serbian parliament after a majority of voters had approved it in a referendum in October.
(AFP, dpa)