Eighty-five people died in the bombing.
Iran has rejected the step, with Mohsen Baharvand, Iran's charge d'affaires in Argentina, telling Reuters that Iranian officials would urge Interpol not to act on the warrants.
Federal Judge Rodolfo Canicoba Corral, who issued the arrest order, called the bombing a "crime against humanity."
"We activate the arrest warrant, on the one hand, with a request to Interpol requesting the capture of certain people, and with an international exhortation that would be transmitted by the chancellery at the right time, soliciting that they proceed with the detention," Corral said.
No one has ever been convicted in connection with the attack in July, 1994. Iran and its ally, the Lebanese-based Shi'ite militia Hizballah, have denied any involvement in the blast.
Rafsanjani is currently the head of Iran's Expediency Council.
(Reuters, AFP)

Iranian Anti-Zionism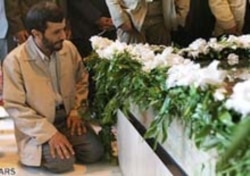 President Ahmadinejad visiting the tomb of Ayatollah Ruhollah Khomeini in October (Fars)


READ
Each year in Iran, the last Friday of Ramadan is celebrated as Qods (Jerusalem) Day, officially a day for expressing solidarity with the Palestinian people.
"I have been notifying the Muslims of the danger posed by the usurper Israel,"
Ayatollah Ruhollah Khomeini,
father of Iran's Islamic Revolution, said in an August 1979 announcement. "I ask all the Muslims of the world and the Muslim governments to join together to sever the hand of this usurper and its supporters...and, through a ceremony demonstrating the solidarity of Muslims worldwide, announce their support for the legitimate rights of the Muslim people..."
(more)
SEE ALSO:
Iranian President's Latest Comments About Israel Spark Further Condemnation
Iranian President Says Light Surrounded Him During UN Speech
INTERVIEW: On December 22, 2005, RFE/RL's Radio Farda spoke with FRED ZEIDMAN, director of the U.S. Holocaust Memorial Museum in Washington, D.C. Zeidman commented on Iranian President Mahmud Ahmadinejad's anti-Israeli comments.
LISTEN
Hear the complete interview (about nine minutes):
Real Audio Windows Media
ARCHIVE: For an archive of RFE/RL's coverage of Iran, click here.