The attack, on a Jewish community center in Buenos Aires in 1994, killed 85 people and injured hundreds more.

The arrest order came two weeks after Argentinian prosecutors formally charged a number of former Iranian officials -- including ex-President Ali-Akbar Hashemi-Rafsanjani -- for their alleged roles in the bombing.

Prosecutors say Hashemi-Rafsanjani and other senior officials commissioned the attack. They say that while it was carried out by the Lebanese Hizballah militia, the decision to target the Jewish center came from the "highest authorities" within the Iranian government.

Argentinian federal Judge Rodolfo Canicoba Corral issued the arrest order for what he called "crimes against humanity" and asked Interpol to capture the suspects.

"We activate the arrest warrant, on the one hand, with a request to Interpol requesting the capture of certain people -- and with an international exhortation that would be transmitted by the chancellory at the right time, soliciting that they proceed with the detention," Canicoba Corral said.

Hashemi-Rafsanjani, who served two presidential terms that spanned much of the 1990s (1989-97), remains influential as head of a body that mediates between Iran's parliament and the clerical establishment in the form of the Expediency Council.

Judge Canicoba Corral has also requested the arrest of a former minister of information, Ali Fallahian, and of foreign affairs, Ali-Akbar Velayati, as well as onetime commander of Iran's Revolutionary Guard Corps Mohsen Rezai and other ex-officials.

Tehran Shrugs Off Charges

Tehran has repeatedly denied any involvement the deadliest terrorist attack ever on Argentinian soil.

On November 9, Iran's charge d'affaires in Argentina, Mohsen Baharvand, dismissed the investigation as politically motivated.

"Because of the shortcomings of Argentina to find the real perpetrators of this act and as a result of the seeds of 'Iranophobia' and 'Islamophobia' disseminated throughout the world by the United States and Israel, again, this [Argentinian] judicial system has accused Iran and Hizballah [of] something which has been done 12 years ago," Baharvand said.

Baharvand also said Iran will urge Interpol not to act on the warrants.

But observer Dr. Abdolkarim Lahidji, deputy head of the Paris-based International Federation of Human Rights, said that Interpol acts based on judicial orders and not political appeals.

"Interpol cannot go to Iran and arrest them," Baharvand said. "But if any of these officials whose names are on the arrest warrant are seen in a country and the police in that country have a copy of the arrest order, then they can be arrested -- then it would be up to that country to extradite the arrested person to Argentine for questioning."

Justice Served?

The arrest order might have largely symbolic significance for the victims of the attack and their relatives, since it is highly unlikely that Tehran would place those former officials at risk of arrest.

Lahidji told RFE/RL that the arrest warrant suggests a body of evidence implicating those former officials.

"If there were no such evidence, then an arrest order would not have been issued," Lahidji said. "Therefore [the arrest order] demonstrates that, despite what Iranian officials have said, the dossier is not empty."

No one has been convicted in connection with the July 18, 1994, bombing, which reduced the seven-story Argentine-Israeli Mutual Association (AMIA) to rubble.

Local Jewish groups and some officials have long accused Iran and the Lebanese Hizballah of being behind the attack.

Officials Implicated

Iranian officials have been targeted by international authorities before over alleged roles in attacks in Europe on opposition members. In 1997, a German court issued a warrant for former Iranian Information Minister Ali Fallahian in connection with the 1992 murder of Iranian Kurdish opposition leaders at the Mykonos restaurant in Berlin. The court said the so-called Mykonos murders were carried out with the knowledge of Iran's supreme leader, Ayatollah Ali Khamenei, and former President Hashemi-Rafsanjani. Fallahian is among those targeted in the Argentinian warrants.

Lahidji noted that the warrants will limit travel options open to Iranian officials.
"Since the issuing of the court order in the case known as 'Mykonos,' senior Iranian officials have not traveled to European countries, and, as far as I can remember, Rafsanjani has had several trips to Saudi Arabia and maybe to Syria," Lahidji said. "So merely the fact that the traveling [options] for the officials of a country are limited is like sanctions -- like the measures against senior Iranian officials that could be put in place regarding Iran's nuclear case."
In 2003, Iran's former ambassador to Buenos Aires, Hadi Soleimanpour, was jailed in London at Argentina's request but later freed for lack of evidence.
Alleged Motive
Prosecutors allege that Argentina's decision not to provide Iran with nuclear technology was the motive of the 1994 bombing.
Tehran has described the charges as a "Zionist plot" aimed at diverting attention from crimes it says Israel has committed against women and children in Palestine.
The attack on the Jewish community center in 1994 followed a bombing two years prior that destroyed the Israeli Embassy in Buenos Aires and killed 29 people. That case remains unsolved.
Argentina's 300,000-strong Jewish community is South America's largest.
Iran, Syria, And Hizballah
Iran, Syria, And Hizballah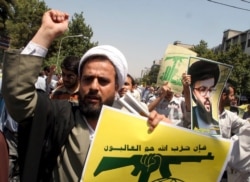 Iranians demonstrating in support of Hizballah in Tehran on July 17 (epa)

'FOR THE SAKE OF LEBANON': The Islamic Republic of Iran has served as an ideological inspiration for Hizballah since the Lebanese militant group's creation in 1982, and Tehran acknowledges that it supports the organization morally and politically. "Yes, we are friends of Syria and Iran" Hizballah leader Hassan Nasrallah has said. "For 24 years we benefited from our friendship with Syria and Iran for the sake of Lebanon...." (more)
RELATED ARTICLES
Tehran Playing Key Role In Israel-Lebanon Crisis
Iran, Hizballah Brush Off U.S. Terrorism Label
Intifada Conference In Tehran Has Multiple Objectives
UN Resolution Rankles Syria, Hizballah, Iran
ARCHIVE
RFE/RL
coverage of Iran
. RFE/RL web special on
Iran's nuclear program
.
SUBSCRIBE
For weekly news and analysis on Iran by e-mail,
subscribe to "RFE/RL Iran Report."