Media Watchdog Awards Iranian Bloggers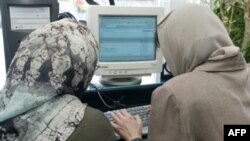 Iran recently imposed tighter limits on Internet cafes as well (AFP) PRAGUE, November 13, 2006 (RFE/RL) -- The Paris-based Reporters Without Borders (RSF) media watchdog has awarded two Iranians for the best blog defending freedom of expression.
RSF says in a statement issued on November 12 that the prize is part of an international blog competition organized by Deutsche Welle.

The group says the work of the two Iranian bloggers, Hamed Mottaghi and Kosoof, is "particularly important" in a country where authorities tightly control traditional media and block access to websites that displease them.

Kosoof runs a photoblog that covers demonstrations in Tehran and posts portraits of Iranian intellectuals and political dissidents. Mottaghi's blog covers human rights abuses in Iran.

RSF says Russian blogger Vera Vasilyeva was also nominated for this year's award for her coverage of the Yukos case.