Giorgi Baramidze , Georgia's secretary of state for Euro-Atlantic integration, has compared Russian treatment of Georgians to the behavior of the Nazis.
Speaking at a Brussels press conference on November 13, Baramidze accused Russia of using "xenophobic rhetoric" and pursuing an "ethnic-cleansing policy" just like the Nazis did to the Jews in the 1930s.
His comments were quoted by the Reuters news agency.
Relations between Georgia and Russia hit a new low after Georgia briefly detained four Russian servicemen in October on charges of espionage. Russia responded by cutting air, land, sea, and postal links with Georgia.
Russia has also deported several hundred Georgians, accusing them of lacking the proper documentation to live in Russia.
Tbilisi accuses Russia of punishing Georgia for pursuing closer ties with the West.
(Reuters)

Russian Sanctions On Georgia
Russian Sanctions On Georgia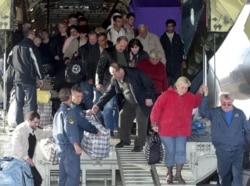 Georgian deportees arriving in Tbilisi on October 6 (epa)
RUSSIA DEPORTING GEORGIANS. Despite Georgia's release of four military officers accused of spying on October 2, Russia has continued its transport and postal blockade of Georgia, and has also deported hundreds of Georgians.... (more)
RELATED ARTICLES
Council Of Europe Head 'Concerned' About Reports Of Russian Sanctions
'No Time To Send Ambiguous Messages'
Ethnic Russians Feel Insulated From Tensions
Explaining West's Muted Response To Crisis
MORE: Coverage of the situation in Georgian from RFE/RL's Georgian Service and in Russian from RFE/RL's Russian Service.
ARCHIVE
RFE/RL's English-language coverage of
Georgia
and
Russia
.