Iran Vows Early 'Nuclearization' As IAEA Faults Cooperation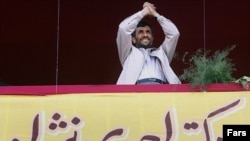 Iranian President Mahmud Ahmadinejad at a rally in July (Fars) November 14, 2006 -- Iranian President Mahmud Ahmadinejad has predicted that his country's right to pursue nuclear technology will soon be acknowledged internationally, even as the UN nuclear watchdog was said to have prepared a highly critical report that accuses Iran of failing to cooperate.
Ahmadinejad initially told reporters Iran would celebrate its "full nuclearization" within the current Iranian year, which ends in March.
Ahmadinejad later offered a clarification, saying he was referring to a "celebration of confirmation of Iran's right in nuclear material," according to AFP.
"We need time before we can arrive at a stage where we can make nuclear fuel for a power station," he was quoted as saying. "And yes, it will take time."
UN Security Council powers are currently weighing language on a possible resolution to counter Iran's refusal to cease uranium enrichment. The United States has argued for the imposition of sanctions, but that approach has met with reluctance from Russia and China.
Ahmadinejad said Iran is "decisively moving towards that direction" of putting the tens of thousands of centrifuges in operation to complete the nuclear fuel cycle, AFP reported.
IAEA Faults Iran's Cooperation
The UN's nuclear watchdog, the International Atomic Energy Agency (IAEA), says in a report it prepared for an upcoming meeting that Iran is pressing ahead with production of highly enriched uranium, international news agency report.
AP says the report also asserts that IAEA experts have found unexplained traces of plutonium and highly enriched uranium at a waste facility in Iran and are pursuing the matter with officials in Tehran.
The IAEA also says Tehran is still failing to cooperate to help resolve key questions about its atomic program.
Iran fed "a total of approximately 34 kilograms" of feedstock uranium gas into centrifuges in Natanz from August 13 to November 2, the IAEA says, producing a small amount of uranium enriched to low levels.
(AP, AFP, dpa)


THE COMPLETE PICTURE: RFE/RL's complete coverage of controversy surrounding Iran's nuclear program.
CHRONOLOGY
An
annotated timeline
of Iran's nuclear program.