Georgia's Separatists Set Terms For Talks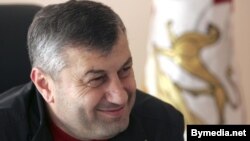 Eduard Kokoity, leader of South Ossetia (file photo) (Bymedia.net) November 17, 2006 -- The leaders of Georgia's two breakaway regions today set conditions for the reopening of talks with Tbilisi.
South Ossetia's leader Eduard Kokoity said talks could restart if Georgian President Mikheil Saakashvili signs an agreement vowing not to use or threaten force.
Abkhazia's leader Sergei Bagapsh said there would be no talks until Tbilisi withdraws its troops from the Kodori Gorge, a large stretch of which lies within Abkhazia.
Kokoity and Bagapsh made their comments after talks with Igor Smirnov, the leader of Transdniester, a breakaway region of Moldova.
(Reuters)