EU Opens Trade Talks With Iraq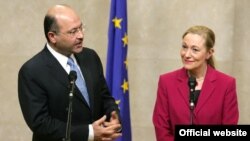 Iraqi Deputy Prime Minister Barham Saleh (left) with European Commissioner for Relations and European Neighbourhood Policy Benita Ferrero-Waldner in Brussels today (official site) November 20, 2006 -- The European Union today opened trade and cooperation talks with Iraq's new government, hailing the event as a chance for Baghdad to become more closely linked to the international community.
The talks in Brussels are focusing on issues related to goods, services, and customs arrangements.
Representatives will also discuss poverty reduction and environmental issues.
(AFP)