The veracity of reports claiming the Tehran event will be a trilateral summit is still in doubt, but Iraq's Al-Sharqiyah television also reported on November 20 that a three-way summit is scheduled for early December.
Reasons For Optimism
While U.S. officials have taken a cautious view of the reported summit, the announcement on November 21 that Syria and Iraq have reestablished diplomatic ties appears to signal increased cooperation.
Both Washington and Baghdad have long accused Syria of doing too little to prevent Arab fighters and weapons from crossing the porous Iraqi-Syrian border. On November 20, U.S. military spokesman Major General William Caldwell said that "between 70 and 100 fighters are crossing the border into Iraq" every month, Reuters reported.
Furthermore, the U.S. military claims that many former Iraqi Ba'athists based in Syria are organizing raids across the border and are thought to form the backbone of the insurgency. The diplomatic thaw between Iraq and Syria could prompt Damascus to do more to stop Arab fighters from infiltrating into Iraq and rein in the Ba'athists -- moves that could help curb the insurgency.
Iran's initiative to convene a trilateral summit is presumably motivated by self-interest, but its increased cooperation could have significant implications.
Tehran has historical ties with some of Iraq's most influential Shi'a. Many of them, including Abd al-Aziz al-Hakim, the leader of the powerful Supreme Council for the Islamic Revolution in Iraq (SCIRI), lived in Iranian exile during the reign of former Iraqi President Saddam Hussein. SCIRI's military wing, the Badr Organization, was also trained by the Iranian Revolutionary Guard Corps (IRGC), and Iran is suspected by British and U.S. officials of continuing to fund and arm the militia.
Iranian pressure on SCIRI to reign in the Badr Organization -- which along with Muqtada al-Sadr's Imam Al-Mahdi Army is accused by the United States of carrying out attacks against Sunni Arabs -- could thus help ease sectarian strife. The question of how to deal with the Shi'ite militias has become a contentious issue between U.S. officials and Iraqi Shi'ite leaders, and Tehran's influence could prompt Iraqi Shi'ite leaders to be more amenable to reining in their forces.
In the broader political context, news of the proposed summit comes as both the United States and Britain openly discuss whether to engage Iran and Syria and enlist their help in stabilizing Iraq. This underscores the influence that both Iran and Syria have on Iraq's security, but proponents of engagement might also argue that it is an opportunity to create a broader working group to tackle these issues.
Iranian, Syrian Motives
It would arguably be in the interests of both Iran and Syria to have a stable Iraq. Each country shares a long border with Iraq, and if its neighbor descends into full-scale civil war -- or if the Baghdad government collapses -- the ensuing chaos could spill across those borders.
Officials in Tehran are likely to regard their summit initiative as enhancing Iran's position as a regional power, as well as placing it in solid position ahead of any anticipated shift in U.S. policy in Iraq. The Iraq Study Group -- led by former U.S. Secretary of State James Baker and former Representative Lee Hamilton -- is expected to issue its assessment and policy recommendations soon.
One possible conclusion that has drawn much attention is the idea of direct negotiations with Iran and Syria over Iraq. It might be tempting to regard Iran's summit proposal as an attempt to take the lead before any U.S. policy shift occurs, so as to avoid any appearance that it is falling in line with a U.S. plan.
Iran's willingness to assist Iraq might also serve as leverage in its standoff with the United States over Tehran's disputed nuclear program.
Syria might also seek to use its influence in Iraq to win concessions from Washington. Damascus could try to persuade the United States to pressure Israel to discuss a land-for-peace deal concerning the strategically important Golan Heights. Or it could push for the lifting of international sanctions and other steps to reduce its international isolation.
Outcome Uncertain
If a trilateral summit of the Iranian, Iraqi, and Syrian leaders does take place, it is still unclear what chance it has of producing concrete solutions to stem the violence in Iraq. The holding of a three-way summit might in itself be viewed as a positive sign suggesting that Iran and Syria are serious about Iraqi stability.
But there are no guarantees that any tangible results will emerge from the meeting. Iran and Syria have expressed their desire to see a stable Iraq in the past, but critics have accused them of failing to follow up on those claims. U.S. State Department deputy spokesman Tom Casey emphasized that point on November 20, when he urged Iran to play a more productive role in Iraq. Casey asserted that "the problem is not what [Iranian officials] say," but "what they do."
Iraq And Iran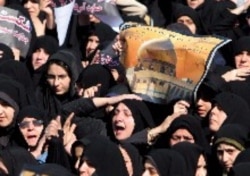 Iranian Shi'a protesting the Golden Mosque Bombing in Iraq on February 24


WHAT IS GOING ON? On March 8, RFE/RL's Washington office hosted a roundtable discussion on relations between Iraq and Iran. Although most analysts agree that Iran has been actively involved in Iraq since the U.S.-led military operation to oust former Iraqi President Saddam Hussein, they continue to debate the nature, extent, and intent of that involvement.
The RFE/RL briefing featured WAYNE WHITE, former deputy director of the U.S. State Department Bureau of Intelligence and Research's Office of Analysis for the Near East and South Asia, and A. WILLIAM SAMII, RFE/RL's regional analyst for Iran and editor of the "RFE/RL Iran Report."
LISTEN
Listen to the complete RFE/RL briefing (about 75 minutes):

Real Audio
Windows Media
RELATED ARTICLES
Iran/Iraq: Bilateral Ties Improving Despite U.S. Worries
Renewed Speculation About Tehran And Instability In Iraq
Iran/Iraq: Neighbors Mending Ties, But Outstanding Issues Remain
ARCHIVE
RFE/RL's
coverage of Iran
. RFE/RL's
coverage of Iraq
.