The funeral took place in Beirut's Maronite St George Cathedral in the presence of dignitaries, including French Foreign Minister Philippe Douste-Blazy and Arab League chief Amr Musa.
Parliament speaker Nabih Berri, whose Amal faction is allied to Hizballah, was the most senior pro-Syrian figure there.
Pallbearers struggled to make their way into the cathedral amid the massive crowds gathered in the nearby Martyrs' Square. Gemayel's bodyguard, Samir Shartuni, who was also killed on November 21, was also laid to rest.
Attacking Syria
After the ceremony, leaders of Lebanon's pro-Western governing coalition lashed out at neighboring Syria in fiery addresses to huge crowds gathered outside the cathedral.
Druze leader Walid Jumblatt, and then Sunni leader Saad Hariri, speaking from behind a bulletproof-glass screen, railed against Syrian meddling in Lebanese affairs.
Hariri is the leader of the anti-Syrian majority in parliament. Hariri's father, former Prime Minister Rafiq Hariri, was killed in a bomb attack in 2005.
It's not clear who was behind the killing of Gemayel. The anti-Damascus politicians who run the government were quick to point the finger at Syria and have called for a huge turnout to show opposition to Syrian involvement in Lebanese affairs.
Syria denies any role in the killing. Damascus said the timing of Gemayel's assassination, on the day the United Nations endorsed a blueprint for a tribunal to try suspects in the February 2005 killing of Hariri, was designed to cause it maximum damage.
Mourners in the city center vented their anger at Syrian President Bashar al-Assad and his Lebanese allies -- President Emile Lahud and the Shiite militant group Hizballah. "Kick Bashar's agent out of Baabda," they chanted, referring to the presidential place.
Calls For Calm
Gemayel's father, Amin, himself a former president, called for the funeral to pass off "calmly."
Security around the capital has been heightened since the minister's killing, with extra roadblocks around the presidential palace and on the main highway to Damascus.
Gemayel, a member of one of Lebanon's leading Christian families, was to be buried later today in his home village of Bikfaya in the mountains east of Beirut.
U.S. President George W. Bush criticized both Damascus and Tehran on November 21 over the assassination, just hours after it occurred.
"We support the [Lebanese Prime Minister Fuad] Siniora government and its democracy, and we support the Lebanese people's desire to live in peace," bush said. "And we support their efforts to defend their democracy against attempts by Syria, Iran, and allies, to foment instability and violence in that important country. I call for a full investigation of the murder to identify those people and those forces behind the killing."
The official press in Damascus said the governing anti-Syrian camp in Beirut, faced with a growing challenge from Hizballah since its war with Israel in summer, is the only party that stands to gain from the minister's assassination.
Former Lebanese Prime Minister Rafiq Hariri
Former Lebanese Prime Minister Rafiq Hariri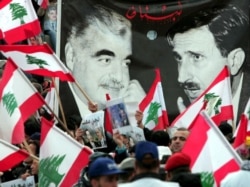 Lebanese demonstrating in Beirut on the first anniversary of Hariri's slaying in February (epa)
POINTING AT SYRIA. The February 2005 assassination of former Lebanese Prime Minister Rafiq Hariri shook the fragile political situation in Lebanon and threatened the entire region. The international community have been increasingly vocal in accusing Syria of involvement in the killing and in demanding that Damascus cooperate with a UN investigation....(more)
RELATED ARTICLES
Lebanon's Cedar Revolution Hangs In The Balance
500,000 Rally In Beirut To Mark Anniversary Of Premier's Slaying
People Want 'Truth,' But Not All Welcome Mehlis Report
Security Council Demand Syria Cooperate With Hariri Probe
Syrian Interior Minister's Death Linked To Lebanon
ARCHIVE
All of RFE/RL's English-language coverage of
the Middle East
. The Arabic-language website of
RFE/RL's Radio Free Iraq
. The Farsi-language website of
Radio Farda
.