Indefinite Curfew Imposed In Baghdad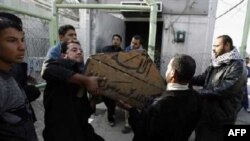 Iraqis taking a victim of the November 23 violence to a Baghdad morgue (AFP) November 24, 2006 -- The Iraqi government has imposed an indefinite curfew in Baghdad and closed the city's international airport, after one of the worst days of violence since the U.S. invasion of Iraq in 2003.
Authorities on November 23 also closed the airport in the southern city of Al-Basrah and three seaports in the Al-Basrah region until further notice.
A series of at least three car bombs and several mortar attacks on a Shi'ite neighborhood of Baghdad earlier today killed as many as 160 people and wounded more than 200.
The blasts there were followed by a barrage of mortar fire aimed at a nearby Sunni enclave.
Prime Minister Nuri al-Maliki, in a televised national address, blamed Sunni radicals and followers of former Iraqi leader Saddam Hussein for the bloodshed and urged restraint.
Also on November 23, insurgents attacked the Health Ministry, wounding several guards. The arrival of U.S. attack helicopters and Iraqi troops eventually dispersed the assailants.
(compiled from agencies reports)