A new park for women is due to open in the capital, Tehran, and reports say plans are under way for single-sex hospitals and women-only public transport. Supporters claim the effect will be a more moral and Islamic society, but activists warn that the moves are aimed at curbing women's participation in public life.
The separation of men and women has arguably been part of Iranian culture for longer than its Islamic-based government. But gender-based segregation in public life was institutionalized following the establishment of the Islamic republic in 1979.

Some fundamentalists consider it a solution to prevent social interaction that they regard as a potential source of evil.

Not Completely New

Iran's schools are already segregated to some extent. Young men and women sit in separate rows in university classes. All metro trains in the capital have distinct compartments for women, and women and men must sit in separate sections on public buses.

In the past 27 years, there have been attempts to introduce segregation in other pubic places -- including health institutions and parks. So far, those attempts have failed in part due to impracticality, but also because of efforts by vociferous opponents.
"In the early years of the revolution, some people wanted to do the same in the universities and, as far as I know...[Ayatollah Ruhollah Khomeini] opposed it."
Since former hard-line Tehran Mayor Mahmud Ahmadinejad assumed the presidency, the segregation efforts appear to have gained momentum. As mayor, Ahmadinejad reportedly imposed a system of segregated elevators.

The recent moves to further separate the sexes are backed by some senior clerics and legislators.

Squaring Off

Former reformist legislator Fatemeh Rakei tells RFE/RL that she thinks the new push for segregation is unlikely to succeed.

"In the early years of the revolution, some people wanted to do the same in the universities and, as far as I know, the late Imam [Ayatollah Ruhollah Khomeini] opposed it," Rakei says. "But currently there are some strange radical views, which also exist in the Islamic world -- unfortunately -- but I don't think they can implement these views."

Despite such criticism, advocates of segregation appear determined to enforce gender segregation in public arenas.


In one of the latest initiatives, a senior official within Iran's Social Welfare Organization, Abbas Maleki, ordered that gender segregation be implemented in that organization's offices as soon as possible.
In mid-November, Supreme Leader Ali Khamenei's representative to universities, Hojatoleslam Mohammad Mohamadian, called for segregated classes and said boys and girls can currently mingle more easily in universities than in parks.
Conservatives say such measures would lead to a healthy Islamic society. But critics reject it and say gender segregation has neither a religious basis nor scientific support.
Ex-lawmaker Rakei says clerics and open-minded Islamic scholars should speak out against the push.
"I speak as someone who is deeply religious -- the segregation of men and women is not essential to a moral life," Rakei says. "Instead of such physical measures, they should explain teachings by different religions on issues such as morality and spirituality."
Enforcement Issue
Azadeh Kian, a lecturer in political science and an Iran researcher at France's National Center for Scientific Research (CNRS), says she thinks it is difficult to enforce segregation laws beyond some government offices.
"How do they want to apply segregation, for example, on all public transportation?" Kian asks. "How do they want to segregate parks, hospitals, and streets? Women would have to walk on this side of the street and men on the other side. Currently women who are close to the government are on the city councils -- what do they want to do about that? For example, how would they have meetings of Tehran's city council? They would have to put women in one room and men in another."
Some backers of segregation have conceded that it is impossible to implement such a policy in all public places. But they have said men and women should be separated where possible if it does not hinder the workflow.
A member of the parliament's education committee, Mussalreza Servati, recently told the semi-official ILNA news agency that it would be good -- if possible -- to implement segregation in universities like that in schools.
Servati also expressed support for segregation in workplaces and said it would liberate workers from certain obligations. He cited as an example the danger of women in mixed workplaces falling in love with colleagues and leaving their husbands.
One female legislator, Efat Shariati, was quoted as saying recently that segregation in the office would lead to increased efficiency and commitment.
'A Woman's Place...'
Former legislator Rakei warns that the new push for gender segregation could prompt a backlash.
"Those who have such views and do such things should know that by stepping up such measures, they will have negative results," Rakei says. "People will escape from the religion [that those people] advocate."
There have been conspicuous public calls for women to return to their traditional roles as housewives in recent months.
Kian tells RFE/RL that support for gender segregation is the result of a patriarchal view in which women should be confined to the home, housework, and satisfying the desires of their husbands.
"Instead of bringing up the issue of gender segregation, I think the current government should express the depth of its view -- and that is that women should not be active in public spheres, with the exception of those who hold the same view as the government," Kian says.
Ahmadinejad said in October that women should devote more time to their main mission of raising children. He suggested that women can work part-time on full-time salaries. The comments were denounced by activists as an attempt to isolate women.
One senior cleric, Grand Ayatollah Safi Golpayegani, recently described mountain hiking by women as shameful, and said there is no honor in women being elected to city councils. He instead praised housekeeping as a "holy" job.
Kian says the new measures will meet resistance from women who now compose about two-thirds of new university students.
"These attempts will fail, because today women in Iran have a very high level of knowledge," Kian says. "They are very active in public spheres, and they can't -- through public segregation -- force women to return and stay in their homes."
Women In Iran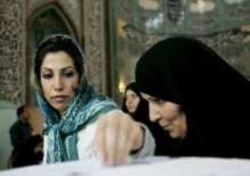 Women in Tehran (epa file photo)

CALLING FOR MORE RIGHTS: Although women played key roles in Iran's 1979 Islamic Revolution, the place of women in post-revolutionary society has been a vexing question. Iranian women have struggled to bring attention to their calls for greater rights in their country's rigid theocratic system, calls that have often clashed with the values proclaimed by conservatives in society. (more)
RELATED ARTICLES
Tehran Police Renew Campaign To Combat 'Un-Islamic' Dress
Iranian Peace Prize Laureate Shirin Ebadi On Women's Rights
Activists Concerned About Self-Immolation Of Iranian-Kurdish Women
The Younger Generation's 'Tehran Blues'
ARCHIVE
RFE/RL's coverage of Iran. RFE/RL's coverage of issues concerning women throughout our broadcast area.

SUBSCRIBE
For a regular review of civil-society developments throughout RFE/RL's broadcast region, subscribe to "RFE/RL (Un)Civil Societies."