RFE/RL: When did you last speak with Aleksandr Litvinenko?
Yuly Dubov: He called me several times from the hospital to tell me how he was feeling. At the time he didn't know whether it as thalium or not. It is hard for me to say -- I'm not an investigator. A man was poisoned and he died.
RFE/RL: What do you think of claims that the Russian secret services are involved in this case?
Dubov: I know that this is the main scenario that is being discussed. In general, I think it makes sense. I don't look at the probability of events. I evaluate events based on their possibility or impossibility, not on their probability or improbability. You can try to find some explanations for this scenario. I see three of them. The first explanation -- if the involvement of the Russian secret services is established -- is that this is the first such serious act since the passage of the law this summer that gave President [Vladimir] Putin the authority to give such orders. Second, [Litvinenko] was, after all, a KGB agent. People there really don't like people who break with that agency. The third explanation is that it reminds Boris Berezovsky that they are very close by.
RFE/RL: Some Russian media with connections to the Kremlin are expressing the idea that Berezovsky was involved in this killing. Does this sort of thinking seem completely groundless to you?
Dubov: In general, yes. It is a good thing there is a Berezovsky! If there was no Berezovsky, they'd say that [murdered investigative journalist Anna] Politkovskaya hired her own killer in order to discredit our beloved president.
RFE/RL: Litvinenko himself openly and publicly accused Putin of murdering Politkovskaya. Would you put these murders in the same category?
Dubov: They are connected. There is a chain of connected and very similar events. I can't say more because I don't have enough information. But I have a feeling that they are connected.
RFE/RL: Do you have the sense that this is the beginning of some sort of political campaign by the Russian secret services or the Russian leadership against its political opponents?
Dubov: I had this feeling as soon as they began discussing the law on murdering people [Note: During the summer, Russia adopted a law giving the special services the right to kill people outside of the Russian Federation on the orders of the country's senior leadership]. If there is such a law, but no order -- that just doesn't happen. We have a disciplined country. True, it often happens that we have an order, but no law. But the idea that there is such a law, but no order is just nonsense.
RFE/RL: Are you involved in politics?
Dubov: Any business connected with Boris Berezovsky is connected with politics.
RFE/RL: Should other political emigres in London be worried?
Dubov: Yes. But I also think that if the special services were involved, then after such a high-profile first step, they probably won't poke their noses out again for a while.
Remembering Anna Politkovskaya
Remembering Anna Politkovskaya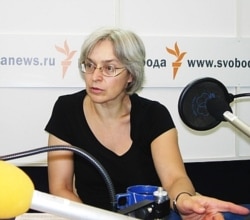 Anna Politkovskaya at RFE/RL in July 2006 (RFE/RL)
A BRAVE VOICE SILENCED. Prominent Russian journalist Anna Politkovskaya was killed on October 7 in her Moscow apartment building. An outspoken critic of the Kremlin, she was best-known for her reporting on the conflict in Chechnya. Former Soviet President Gorbachev called her slaying "a true political homicide, a vendetta."
Chechens Mourn Politkovskaya As 'Last Hope'
Politkovskaya Investigating Chechen Torture At Time Of Death
Two Journalists Die In Contract Killings A Year
SUBSCRIBE
For regular news and analysis on media issues throughout RFE/RL's broadcast area by e-mail,
subscribe to "RFE/RL Media Matters."