Police in London said today they had found traces of radiation at two locations Litvinenko visited November 1, just hours before he became violently ill.
Supporters remain convinced the 43-year-old Litvinenko was killed in retribution for past allegations of Kremlin wrongdoing. Others, however, say the case is too murky to know for certain who is behind the plot
Doctors initially speculated Litvinenko's illness was the result of poisoning with thallium, an extremely potent toxin that attacks internal organs and the central nervous system.
Polonium-210
Today, however, the British Health Protection Agency (HPA) told a news conference in London that a large quantity of the radioactive isotope polonium-210 had been found in Litvinenko's urine.
Pat Troop, the agency's top executive, said Livinenko appears to have been deliberately poisoned.
"All we've had is an unprecedented event in the U.K. when someone has apparently been deliberately poisoned with a type of radiation," Troop said.
The HPA also said small amounts of radiation had been found at two locations Litvinenko had visited the day he fell ill -- a London hotel and sushi bar.
Jim Down, a spokesman for London's University College Hospital, announced Litvinenko's death early today.
"We are sorry to announce that Aleksandr Litvinenko died at University College Hospital at 9:21 [p.m. local time] on the 23rd of November 2006. He was seriously ill when he was admitted to UCH on Friday, November 17, and the medical team at the hospital did everything possible to save his life," Down said.
Litvinenko's health had rapidly deteriorated in the weeks since November 1.
Visitors in recent days described Litvinenko as gaunt and jaundiced, unable to eat, and having lost all of his hair.
Meetings
Attention had focused on the two meetings Litvinenko held the day he fell ill.
The first was with two Russians, including a fellow former colleague from the Russian security services.
The second was with an Italian man who purported to have information regarding the recent murder of Russian investigative journalist Anna Politkovskaya.
Kremlin Critic
Litvinenko, who leaves behind a wife and son, defected to Britain six years ago. He had angered the Kremlin in the past with allegations that his superiors in the Federal Security Service (FSB) had ordered him to assassinate Russian oligarch Boris Berezovsky, a longtime Kremlin foe.
He has since written a book accusing the security service of orchestrating the 1999 spate of apartment-block bombings in Moscow and other cities that killed hundreds of people.
The Kremlin attributed the blasts to Chechen separatists and used them as a pretext for launching the second war in the North Caucasus republic.
Litvinenko also suggested the 2004 Beslan school siege may have been carried out on FSB orders. In addition, he has alleged that Russian special services were behind the 2004 assassination in Qatar of former acting Chechen Republic Ichkeria President Zelimkhan Yandarbiyev. Two Russian intelligence officers were convicted by a Qatari court in Yandarbiyev's death.
Accusations
Friends and supporters of the former spy have pinned the blame for Litvinenko's death squarely on Russian authorities.
Oleg Gordiyevsky, a former FSB official who also defected to Britain in the mid-1980s, told RFE/RL's Russian Service that the FSB had removed Litvinenko in retaliation for his scathing criticism of FSB head Nikolai Patrushev and Russian President Vladimir Putin.
"This whole operation was carried out specially by the FSB, because Patrushev and Putin hated him. He wrote articles against directed against Patrushev and Putin personally, and against Putin's generals. He was a campaigner against the regime," Gordiyevsky said.
Zakayev Speaks
Another London-exiled Kremlin foe and friend of Litvinenko, Chechen separatist envoy Alhmed Zakayev, branded his death a "heinous crime" staged by Putin's regime.
Speaking to reporters in London today, he said Western leaders had a moral duty to put a stop to the Kremlin's killings of dissidents.
"The European Union has a vital role to play in putting a stop to these vile atrocities. Putin is intent on silencing his critics and restricting freedom of speech, not only in Russia, but also beyond. Western leaders must finally have the guts to say 'enough is enough,'" Zakayev said.
Litvinenko himself appeared convinced that the FSB and Putin, himself a former FSB officer, stood behind his illness.
In an interview with RFE/RL's North Caucasus Service on November 16, he said only Russia's secret services could have wanted his death.
"In 1998, after Putin became director of the FSB, I was one of the first in Russia to speak against this person. And from this moment, they've tried to shut me up. My books are banned in Russia. There is only one structure interested in shutting me up. It is the Russian secret services," Litvinenko said.
And in a statement written before his death, Litvinenko accused Putin of being personally responsible for his illness and described him as "barbaric" and "ruthless." He said the Russian president will have to pay "a price" for silencing him.
Litvinenko's posthumous statement was read out this morning in London by his friend Alex Goldfarb.
"You may succeed in silencing one man, but the holler of protest from around the world will reverberate, Mr. Putin, in your ears for the rest of your life," Goldfarb said.
Like Zakayev, a number of observers view Litvinenko's death as part of a broader campaign against Kremlin critics.
Other Poisoning Cases
The past few years have indeed seen a spate of poisoning cases that many have blamed on Russian secret services.
Yury Shchekochikhin, a leading anticorruption journalist with the Russian daily "Novaya gazeta," died in July 2003 after suffering a severe allergic reaction that his colleagues assert was the result of intentional poisoning.
Anna Politkovskaya, Shchekochikhin's colleague at "Novaya gazeta" and a fierce critic of the Kremlin's actions in Chechnya, was poisoned under suspicious circumstances on her way to cover the hostage crisis in Beslan in September 2004.
She survived that incident, but was gunned down in her Moscow apartment building on October 7 this year.
Ukraine's president, Viktor Yushchenko, was also badly disfigured in 2004 with an apparent case of dioxin poisoning that he has linked to a dinner with a group of senior Ukrainian officials and the head of Ukraine's security service. Some also accused the FSB of being involved.
Russian Denials
Putin has been quick to reject responsibility.
Speaking at a news conference in Helsinki at the end of a Russian-EU summit, he cast doubt on the authenticity of Litvinenko's deathbed statement and called on British authorities to avoid stirring up what he called "political scandals that have no real grounds."
Litvinenko's death, Putin added, is being used for political purposes: "It is extremely regrettable that such tragic events as a human death are used for political provocations."
Earlier today, Dmitry Peskov, a spokesman of Putin, had described Litvinenko's death as a "tragedy" but said it was a matter for the British police to resolve. He categorically dismissed accusations that the Kremlin played any role in his death.
"The allegations against Russia in this respect are nothing but nonsense. Nothing but nonsense. It's really nonsense and it's so silly and unbelievable that it is not worth commenting on by officials," Peskov said.
The Russian Foreign Intelligence Service (SVR) has also denied involvement.SVR spokesman Sergei Ivanov said it was not in the service's interest to spoil bilateral relations with Britain.
And a number of observers, including some Kremlin critics, say the SVR has a point.
Boris Kagarlitsky, a prominent political author and activist who spent time in jail in the 1970s for distributing a left-wing journal, says the Russian authorities are unlikely to have orchestrated Litvinenko's death.
"Personally, I don't think that a decision like this was made at a high level. For Russian authorities, Litvinenko's killing causes more harm than good. This is so obvious that I don't think Russian authorities or even secret-services heads are as incompetent as to not understand this," Kagarlitsky said. "Because this is happening under the eyes of the whole of Europe and to put it mildly, it doesn't improve the reputation of Russia and its current leaders."
He says individual agents in Russia's secret services were most likely to have poisoned Litvinenko with the aim of discrediting the Kremlin.
The Kremlin's Fallen Foes
The Kremlin's Fallen Foes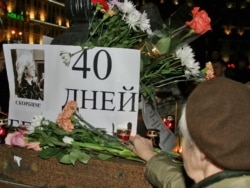 Mourners in Moscow mark the 40th day after the killing of investigative journalist Anna Politkovsksya on November 15 (TASS)

DANGEROUS DISSENT. A surprising number of vocal critics of the policies of Russian President Vladimir Putin have been killed or have died mysteriously in recent years. Although the Russian government has denied any involvement in any of the cases, some Kremlin watchers have begun speaking of a clandestine campaign to eliminate dissent.
April 17, 2003: Sergei Yushenkov, veteran liberal politician, Duma member, and leader of a staunchly anti-Kremlin party, is shot dead in Moscow.
July 3, 2003: Yury Shchekochikhin , liberal lawmaker and investigative journalist, dies of a mysterious allergic reaction. Many believe it was a case of deliberate poisoning, but the incident was never investigated as a murder.
February 13, 2004: Former acting Chechen President Zelimkhan Yandarbiyev is killed in an explosion in Doha, Qatar. Two Russian security-service agents are later convicted of carrying out the killing.
September 2, 2004: Investigative journalist Anna Politkovskaya falls ill mysteriously on a plane bound for the North Caucasus. Politkovskaya was heading to Beslan, North Ossetia, in a bid to negotiate the release of schoolchildren being held hostage there by Chechen militants.
December 2004: Former Ukrainian Prime Minister Viktor Yushchenko , running for president as a pro-Western candidate against Prime Minister Viktor Yanukovych, is poisoned. He recovers and goes on to win the presidency, although his poisoning remains a mystery.
October 7, 2006: Investigative journalist and vocal critic of Russian policies in the North Caucasus Anna Politkovskaya is gunned down in Moscow.
November 23, 2006: Former Federal Security Service agent Aleksandr Litvinenko, a vocal critic of Russia's secret services, dies of a mysterious poisoning in London.
CHRONOLOGY
An annotated timeline
of high-profile killings in Russia since the collapse of the Soviet Union.
SUBSCRIBE
For news and analysis on Russia by e-mail,
subscribe to "RFE/RL Russia Report."