FIFA recently announced
the suspension
of Iran -- which has won Asian Games titles in 1974, 1990, 1998, and 2002 -- from all international competition because of what it described as government interference in the sport.
But organizers said today that FIFA had temporarily lifted the suspension and Iran's soccer team now can participate in the 15th Asian Games.
FIFA has objected to Iranian authorities' ousting of the Iran Football Federation's leadership earlier this year and demanded that they reinstate board members.
Iran is the second country to have received FIFA sanctions in recent months. Kenya was suspended in October for failing to respect signed agreements and other recurrent problems.
(Reuters)
Iran's Arab Minority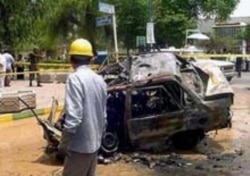 The aftermath of a car bombing in Ahvaz on June 12, 2005 (epa)
DISCONTENT IN THE SOUTH: There are approximately 2.07 million ethnic Arabs in Iran (3 percent of the total population of 69 million), most of them living in the region around the southern city of Ahvaz. The region has been the scene of numerous terrorist attacks and demonstrations over the years. Arab groups cite historical grievances, and they bemoan inadequate attention to their culture and language by state media....(more)
RELATED ARTICLES
Handling Of Ahvaz Unrest Could End With Televised Confessions
Bombing Accusations Highlight 'Differences And Disagreements'
Bombings In Southwest Blamed On Usual Suspect