Is this the sound of a new Europe? Perhaps. But for Pope Benedict XVI, who arrives in the city today for his first visit to a Muslim-majority country, that's a problem.
"On the Islamic side -- from the average Muslim to the political Islamist to the more radical extremist -- they certainly feel that his apology [for remarks in September in Regensburg, Germany, linking Islam with violence] was not enough," says Turkish political analyst Zeyno Baran. "A second group of people are the nationalists in Turkey and they are upset with the pope because he has been critical of Turkey and he is known to be opposed to Turkey joining the EU."
A Broad Agenda
Part of Pope Benedict's agenda in Turkey is an attempt to help spark Islamic theological reform, analysts say.
So controversial is the pope here that Prime Minister Recep Tayyip Erdogan had at first made it clear he would not meet him. While Erdogan, under pressure, has reversed course and will greet the pope on his arrival, the question remains: why is a guest so apparently unwelcome coming anyway?
An easy answer is he was originally invited by the Orthodox patriarch of Constantinople, Bartholomew I, with whom Benedict will meet later this week in Istanbul. But observers of the Vatican believe the pope -- an 80-year-old German theologian known for his sharp intellect -- has a much broader agenda than merely improving ties between Catholics and Orthodox Christians.
Part of that agenda is an attempt to help spark Islamic theological reform. According to this analysis, the pope's September speech in Regensburg, Germany, on the necessary unity of faith and reason was aimed as much at the secularized West and as it was at the Islamic world.
Some analysts argue that literalist readings of seventh-century Islamic texts are fueling extremist movements.
Robert Moynihan, a medieval historian and editor in chief of the magazine "Inside The Vatican," had numerous interviews with Cardinal Joseph Ratzinger before he became leader of the world's 1 billion Catholics in April 2005.
An Unwelcome Challenge?

"There's no doubt in my mind, he virtually states it clearly, that Islam can evaluate when a passage of the Koran was written: was one early, was one later, was one in a certain context and one in another," Moynihan says. "Those remarks in the Regensburg speech make very clear that he's inviting Islam to engage in a process of self-evaluation and examination and of exegesis of the Koran, which is extremely difficult, controversial. But in my view, it's absolutely clear that he's inviting them to engage in that."
But Muslims will likely find this a rude invitation, says David Barchard, a British Catholic and veteran Turkey expert with the Ankara think tank Tepav.
"It seems to be an intrinsically Islamic concept, to see things in terms of insults," Barchard says. "And as far as they're concerned, his remarks came very, very close indeed to insulting the holiest figure in Islam. Now, you might say that's a kind of dialogue, but I would regard it more as confrontation."
Moynihan is more sanguine. He reads the pope's move as an attempt to seize a role in the tense debate between the Western and Islamic worlds. And he says the pope's speech did just that, giving interfaith dialogue a vital intensity and Benedict a "megaphone he didn't have" before Regensburg.
"He is going out with open arms to meet Islamic scholars," Moynihan says. "They are writing letters to him. They are visiting him in the Vatican. They are now going to meet with him in [Ankara], in Turkey. There's no figure in the West who is more openly in dialogue with Islam right now than the pope of Rome. So, what the pope did and why he did it is mysterious. But the effect of it has been to catapult him into the key interlocutor role."
Achieving A New Level Of Dialogue
The question is how he uses that role. In Ankara today, he will meet with Muslim figures including top cleric Ali Bardakoglu, the current president of religious affairs of Turkey.
Ankara-based Felix Koerner is a Catholic priest and authority on Islamic reform theology in Turkey. A German like the pope, Korner believes the talks mark a sort of milestone.
"This will be a new level of dialogue, which will also certainly be institutionalized during this meeting," Koerner says. "We will then bring together our various committees together on a regular basis and things like that."
Other issues here might be more divisive. Turkey's sagging EU bid is chief among them.
Influencing Leaders In Europe
Barchard says there's resentment among leaders here regarding the pope's apparent opposition to Turkey's EU bid. Vatican expert and author John Allen agrees that the pope's position is likely influencing European leaders.
"Clearly, the interview that then-Cardinal Joseph Ratzinger gave to the French newspaper 'Le Monde' in 2003, in which he came out in opposition to Turkey, I think, did to some extent embolden some of the conservative forces in Europe to be more assertive in their own opposition," Allen says. "And clearly, if they got a papal statement in opposition, that would probably further strengthen their hand."
The European Commission earlier this month warned EU candidate Turkey to speed up flagging political reforms, criticizing Ankara for limitations on freedom of expression and lack of protection for the rights of women and minorities, among other concerns.
The pope's position is seen as stemming from his deep concerns that Europe is losing its Christian roots and that a Muslim EU member would only further dilute secular Europe's sense of Christian identity.
That might not make Turks feel any better about his visit, Allen says, but at least it helps to explain his position.
"Benedict's real concern with Europe really has nothing to do with whether or not Turkey takes its place there," he says. "His real concern is trying to reawaken the Christian roots of Europe. And I think he's smart enough to understand that from a certain point of view, Turkey's admission is a side show -- that you can keep Turkey at arm's length all you want, but as long as you are continuing to adopt policies that from his point of view are contradictory to those Christian roots, then it doesn't accomplish very much."
As for Turkey's own elusive identity, that's not the Roman pontiff's business.
But it may well be on his mind this week as he gazes over the Bosphorus Strait, the channel that splits Istanbul into two halves -- one in Europe, the other in Asia.
Islam In A Pluralistic World
Islam In A Pluralistic World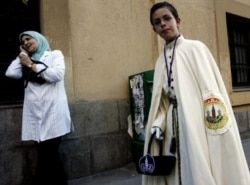 A Muslim woman (left) watches a Christian procession in Madrid in March (AFP)


READ
CONFERENCE ON ISLAM:
A major international conference on Islam concluded in Vienna in November 2005 with strong appeals from prominent Muslim leaders to recognize international terrorism as simply "terrorism." Political figures from Islamic countries, including the presidents of Iraq and Afghanistan, argued that it should never be labeled "Islamic" or "Muslim" terrorism because Islam is based on peace, dialogue, and tolerance. "Salaam" -- meaning "peace" -- was the key word of the three-day conference, titled "
ISLAM IN A PLURALISTIC WORLD
."
Iraqi President Jalal Talibani and Afghan President Hamid Karzai used the word in their remarks to emphasize the peaceful nature of Islam. Other speakers quoted passages from the Koran to the effect that all men and women, regardless of faith, are creatures of God and should live in peace with each other without discrimination
...(more)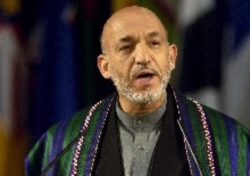 LISTEN
Listen to Afghan President
HAMID KARZAI
's complete address to the Vienna conference (in English):
Real Audio
Windows Media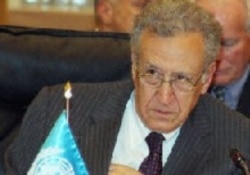 LISTEN
Listen to UN special envoy
LAKHDAR BRAHIMI
's complete address to the Vienna conference (in English):
Real Audio
Windows Media
THE COMPLETE PICTURE:
Click on the image to view a thematic webpage devoted to issues of religious tolerance in RFE/RL's broadcast region and around the globe.