The several dozen protesters who turned out chanted slogans decrying international financial institutions.
Critics say HIPC requires countries to spend more money on servicing their debts, instead of developing poverty-reduction programs. Twenty-nine countries, most of them African, have joined the HIPC program.
Addressing a news briefing in Bishkek on November 28, Alisher Mamasaliev of the nongovernmental group Civic Platform said that most of his countrymen would like to know more about the conditions attached to the debt-relief assistance program, which is co-sponsored by the International Monetary Fund (IMF).
"The majority of the country's population still does not understand [membership of the HIPC]," Mamasaliev says. "President [Kurmanbek] Bakiev himself once said that he does not understand the conditions [of this program]. How can we, not knowing the conditions, conduct entry talks?"
Members of the Kyrgyz parliament's budget committee on November 22 expressed opposition to Kyrgyzstan's participation in the HIPC scheme.
(with additional reporting by 24.kg)
Understanding Kyrgyzstan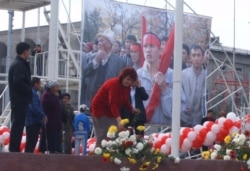 Workers preparing for celebrations of the constitutional compromise in Bishkek on November 9 (RFE/RL)


A STABLE FOUNDATION? On November 9, RFE/RL's Washington office hosted a briefing featuring RFE/RL Kyrgyz Service Director Tyntchtykbek Tchoroev and RFE/RL analyst Daniel Kimmage.
LISTEN
Listen to the complete discussion (about 80 minutes):

Real Audio
Windows Media
RELATED ARTICLES
Parliament Adopts Constitution Curtailing Presidential Powers
Crisis Deepens After President Proposes Constitutional Changes
Bishkek Prepares For Large Opposition Rally