"It has been almost three years that the Karabakh negotiations have been conducted within the Prague [peace] process," Aliyev said on national television. "During this period we have had many meetings at the levels of presidents and foreign ministers. Of course, in these meetings ways of resolving the problem were discussed. There were different stages, but I can tell you we are approaching the final stage of negotiations."

Aliyev's comments, broadcast on Azerbaijani State Television, came a day after his talks with Armenian President Robert Kocharian on the sidelines of the CIS summit in Minsk.

Constructive Talks
Aliyev assessed the results of his November 28 meeting with Kocharian as "good," saying that the "negotiations were held in a constructive matter." The success of future negotiations, he added, will depend on the two presidents.

"The most contentious issues were at the center of the negotiations," Aliyev said. "Lately we have succeeded in resolving some of them. On some of the issues on which we previously disagreed, we now have agreement. But we still have some principal issues on which we have different opinions. And both presidents addressed these issues."


Armenia has not yet commented on Aliyev's statement. However, upon arriving in Yerevan on November 28, Armenian Foreign Minister Vartan Oskanian provided a similar appraisal of the presidents' talks that day.
"I can't give you an assessment yet whether there was a progress during the talks or not, but I can tell you that both presidents positively evaluated the meeting itself in terms of atmosphere and constructive approaches," Oskanian said. "I think in coming days the leaders of Armenia and Azerbaijan will analyze everything in detail, after which they will give concrete instruction to the ministers about further steps to be taken."
The two countries are still officially at war over the predominantly Armenian territory that seceded from Soviet Azerbaijan in 1988. About 30,000 people died in fighting between the two sides before a Russian-brokered cease-fire was reached in 1994. The conflict has been "frozen" ever since, with Armenian forces occupying Nagorno-Karabakh.

Clear Stance
The Azerbaijani president clearly outlined the stance his country is taking in negotiations on a settlement to the longstanding conflict.

"Azerbaijan hasn't changed its position," he said. "Azerbaijan insists on the resolution of the issue [of Nagorno-Karabakh] on the basis of our territorial integrity. The four resolutions of the UN Security Council should be implemented. Azerbaijan's land should be vacated by the occupying forces, and more than 1 million of our citizens should be able to return to their lands.

"Again, Azerbaijan's position has not changed. [Azerbaijan's] territorial integrity should be restored and within that [restoration], the people who live in Nagorno-Karabakh should be given the highest status for self-rule."

Aliyev had strong praise for the role international mediators have had in trying to resolve the dispute. The OSCE Minsk group, co-chaired by representatives of Russia, the United States, and France, has overseen negotiations since the 1994 cease-fire went into effect.

"Respected international organizations saying that the issue should be resolved within the principle of our territorial integrity -- of course this approach strengthens our position," Aliyev said. "Generally, every issue should be resolved in keeping with international law and norms. No issue can be resolved outside of this approach. Because the creation of any kind of precedent can also create problems in the future for other countries."
Universal Principles?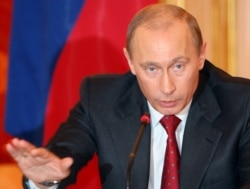 President Putin at a Kremlin meeting in April (epa)
PUTIN SPEAKS OUT: During a January press conference, Russian President Vladimir Putin said there is a need for "universal principles" to settle "frozen" conflicts in the CIS. His comments came against the background of impending talks on the future status of Kosovo, which many predict will grant it a form of "conditional independence" from Serbia and Montenegro. As an ally of Serbia, Moscow has consistently opposed the idea of Kosovar independence. Putin's remarks suggest he may be shifting his position, but only if the principles applied to Kosovo are also applied to frozen conflicts in the former Soviet Union. If Kosovo can be granted full independence, he asked, why should we deny the same to Abkhazia and South Ossetia? (more)
RELATED ARTICLES
Putin Calls For 'Universal Principles' To Settle Frozen Conflicts
Russia Key To OSCE's Attempts To Resolve Frozen Conflicts
Georgia Pushes For EU Backing In Standoffs With Russia
ARCHIVE
Click here to view archives of RFE/RL's coverage of the conflicts in Abkhazia, Chechnya, Kosovo, Nagorno-Karabakh, Ossetia, and Transdniester.