The pope pointed to her as an explicit link between Islam and Christianity, stressing that a common devotion to Mary can help bind the two faiths.
"From here in Ephesus, a city blessed by the presence of Mary Most Holy -- who we know is loved and venerated also by Muslims -- let us lift up to the Lord a special prayer for peace between peoples," Benedict said in his sermon.
Venerating Mary
That "Maryam, Umma Isa" (Mary, Mother of Jesus) is mentioned in the Koran may surprise some non-Muslims. The Koran describes Mary as the virgin mother of Jesus and some Muslims, especially women, visit shrines to her.
Historian and Vatican expert Robert Moynihan says Mary is "venerated to a high degree" by Muslims, many of whom do so at Ephesus.
"Muslims believe that Mary was a virgin even when she had Jesus," he says. "And I would say in that sense, Muslims have more veneration of Mary -- those who are believing Muslims -- than most Christians today. That's because of the decline of Marion veneration in Christianity."
The rough stone house where Mary is said to have died stands amid olive and pine trees outside Ephesus, now a collection of ruins known in Turkish as Efes.
The Sanctuary of Meryem Ana Evi -- the House of Mary -- was founded by the Catholic priests in the 19th century after German mystic Anna Katherine Emmerick had a vision that identified it as the place where Mary died.
The official Vatican Radio guide notes that there's no archaeological evidence to back that claim. However, the sanctuary is unique: it's perhaps the only Marian shrine that draws as many Muslims as Christians. Inside are quotations on the wall from the Koran in praise of Mary.
According to Moynihan, many Catholics believe Mary lived her last years there under the care of Christ's most beloved apostle, St. John.
"At the time of the crucifixion, Jesus looks down, almost like a scene there in 'The Passion Of The Christ,'" Moynihan says. "He's bloody; he's going to die; and he looks down and sees his mother. And he says to John, his disciple -- the disciple who was dearest to him -- he says, 'John, behold thy mother.' And he says to the woman, 'Behold thy son.' And it says in the scriptures that from that moment on, John took Mary into his own household. He took care of her."

More Importance In Islam?

Of the Koran's 114 chapters, Mary is among only eight people who have a chapter named after them. In Islam, Mary is seen as providing a feminine figure of strength, chastity, and dignity. She is seen as the best woman ever to live. And some credit her with raising the standards of women in Muslim societies.

"It is true that Mary is actually referred to more often in the Koran than she is in the New Testament," says Vatican expert and author John Allen. "She's always been a figure of strong popular devotion for Muslims as well as Christians. And it would not at all be surprising if Benedict XVI were to want to build on that in some fashion."

But Allen adds that while Benedict may be seeking to use Mary as a bridge to the Islamic world, he's not going to try to develop that notion theologically. After all, Catholics see Mary as the mother of Jesus, the son of God.

Mary As A Bridge Between Faiths

Turkish reform theologian Mehmet Pacaci agrees that Mary is a common bond between the faiths. But he recalls that Islam, which for Muslims is a perfection of Christianity and Judaism, has other bridges to those faiths as well.

"Before Mary, we have so many common figures. Jesus is mentioned in the Koran. Moses is mentioned in the Koran. Their stories are mentioned. And we respect these prophets," Pacaci says. "So we have so many potential bases to come together and to sit together and to discuss."

Benedict's trip was originally meant as a visit to Ecumenical Patriarch Bartholomew in Istanbul to try to bring the Roman Catholic and Orthodox churches closer. But a speech he made in September infuriated the Muslim world. The pope quoted a medieval Christian emperor as saying Islam had only brought "inhuman and evil" things.

That has invested this trip with much more meaning, making it crucial for the future of relations between the Vatican -- and to some extent the rest of Christianity -- and Islam.

The pope has made a strong appeal to improve ties with the Islamic world since his arrival in Ankara on November 28. By reaching out to Mary today, he may have received a helping hand.

Pope Benedict XVI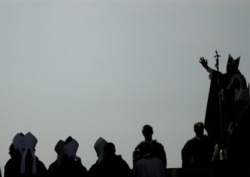 Pope Benedict conducts a Mass in Bavaria in September 2006 (AFP)

FIGHTING SECULARISM, EXTREMISM: On April 19, 2005, German-born Cardinal Joseph Ratzinger was elected pontiff of the Roman Catholic Church. Since becoming Pope Benedict XIV, the pope has labored to combat growing secularism in Europe and growing fundamentalist extremism in the Islamic world. His efforts have sometimes provoked controversy.
RELATED ARTICLES
Pope Expresses 'Deep Respect' For Muslims
Pope's Comments Bring Threats, Condemnation
Pope's Remarks Bring Interfaith Dialogue To Crisis Point
Pope Sparks Controversy With Jihad Remarks
Catholic, Orthodox Churches Unite Against European Secularism
Orthodox And Catholics -- Heading Toward Reconciliation?