Tajik President Orders Drastic Reorganization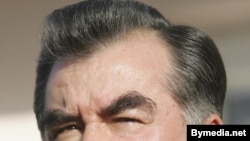 Tajik President Imomali Rakhmonov (file photo) (Bymedia.net) November 30, 2006 -- Less than a month after his landslide reelection, Tajik President Imomali Rakhmonov today ordered that his administration be reduced by roughly one-third.
Tajik news agencies report that a presidential decree will wipe out 10 ministries and 16 state committees and government agencies.
They include the ministries of Security, Communications, Trade and Economy, Agriculture, Emergencies, and Energy. They will either be turned into state committees -- like the Security Ministry -- or their duties folded into other entities.
Rakhmonov also ordered the creation of new state bodies, including an Agency for the Fight Against Corruption and Economic Crimes, that will be placed under his direct supervision.
Rakhmonov won a third seven-year term on November 6, following a vote that Western observers said failed to meet the standards for democratic elections.
Tajikistan's main opposition parties boycotted the polls.
(Avesta, ITAR-TASS)