The demonstrations against Prime Minister Fuad Siniora's pro-Western government are being organized by Hizballah and its pro-Syrian allies.
Siniora has vowed that his government will not be toppled by the protests.
Speaking on national television on November 30, Siniora pledged to stand firm against what he called a possible "coup" against Lebanon's democratic system.
"We will not allow them to topple the democratic system, its organizations, and its basis," he said. "We will not accept a state inside a state. We are deep-rooted to our legitimate and constitutional government for all Lebanon and for all the Lebanese."
Hizballah, which is backed by Syria and Iran, has called for mass protests to force out Siniora's government, calling it a puppet of the United States.
Tensions in Lebanon have again been rising since an anti-Syrian government minister was murdered last week, and six pro-Syrian lawmakers quit Siniora's cabinet.
(AP, Reuters, AFP)
Iran, Syria, And Hizballah
Iran, Syria, And Hizballah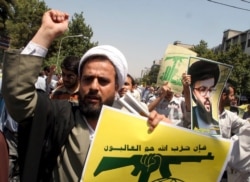 Iranians demonstrating in support of Hizballah in Tehran on July 17 (epa)

'FOR THE SAKE OF LEBANON': The Islamic Republic of Iran has served as an ideological inspiration for Hizballah since the Lebanese militant group's creation in 1982, and Tehran acknowledges that it supports the organization morally and politically. "Yes, we are friends of Syria and Iran" Hizballah leader Hassan Nasrallah has said. "For 24 years we benefited from our friendship with Syria and Iran for the sake of Lebanon...." (more)
RELATED ARTICLES
Tehran Playing Key Role In Israel-Lebanon Crisis
Iran, Hizballah Brush Off U.S. Terrorism Label
Intifada Conference In Tehran Has Multiple Objectives
UN Resolution Rankles Syria, Hizballah, Iran
ARCHIVE
RFE/RL
coverage of Iran
. RFE/RL web special on
Iran's nuclear program
.
SUBSCRIBE
For weekly news and analysis on Iran by e-mail,
subscribe to "RFE/RL Iran Report."