Both are close allies of Western-leaning President Viktor Yushchenko and had long been at odds with Prime Minister Viktor Yanukovych, who is backed by Russia.
Yanukovych told reporters during a visit to the Donetsk region that Tarasyuk had no place in the current government.
"I think that a minister who is in opposition to the government cannot work in the government, this is first," Yanukovych said. "[Secondly,] a minister who doesn't coordinate his actions with the prime minister and the cabinet ministers and creates problems in international relations also cannot work in the cabinet of ministers."
Yushchenko on November 30 accused the government of "usurpation of power" and said he would challenge his ally's dismissals in Ukraine's Constitutional Court.
Yanukovych on November 30 sent a request to parliament to fire Tarasyuk, the chief architect of Yushchenko's pro-Western policies.
Lutsenko's sacking comes one day after parliament called on Yanukovych to oust the interior minister over allegations of corruption and failure to reform police agencies.
Lutsenko was one of the few members of the Orange Revolution team to remain in the current government.
Lawmakers approved Yanukovych's choice of Vassily Tsushko, the leader of Ukraine's Socialist Party, as Lutsenko's replacement.
Viktor Yanukovych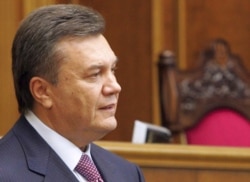 Prime Minister Viktor Yanukovych addresses Ukraine's Verkhovna Rada on August 6, 2006 (TASS)


UP FROM THE ASHES. On August 4, 2006, the Ukrainian legislature ended four months of political standoff by confirming Viktor Yanukovych as prime minister. Yanukovych's pro-Russian Party of Regions won the largest block of seats in the country's inconclusive March legislative elections. His confirmation capped a remarkable political comeback for Yanukovych after his defeat by Viktor Yushchenko in Ukraine's Orange Revolution....(more)
RELATED ARTICLES
Former President Comments On Yushchenko's Compromise
President Compromises For National Unity
Kremlin Insider Hails Developments
Former U.S. Envoy Says West Can Work With Yanukovych
ARCHIVE
RFE/RL's
coverage of Ukraine
. The website of
RFE/RL's Ukrainian Service
.


A photo gallery of political developments in Ukraine since the March 26 elections (Flash required)