Ukrainian Officials Clash Over U.S. Trip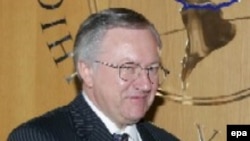 Borys Tarasyuk (file photo) (epa) November 29, 2006 -- Ukrainian Foreign Minister Borys Tarasyuk has urged the U.S. ambassador in Ukraine to postpone Prime Minister Viktor Yanukovych's planned visit to the United States.
Tarasyuk said instructions for the visit were not approved in time.
Yanukovych responded by calling for Tarasyuk's dismissal.
Yanukovych, who enjoys Moscow's support, frequently clashes with the Western-leaning foreign minister.
(AP, Interfax, ITAR-TASS)