More than 20 suspected sites of radioactive contamination have been found in central London, and now three British Airways jets are the focus of the British Health Protection Agency's attention.

Two investigations are being conducted, one by police and one by the British Health Protection Agency (HPA) to determine any possible harm to public health.
Monitoring Contamination On Planes

"This is an unprecedented situation and there isn't a textbook on it to deal with this," said Michael Clark, a scientific media spokesman for the HPA's Radiation Protection Division. "There are parallels, say with infectious diseases. I mean the SARS outbreak, if you remember was in Canada in particular, and it was preceded by some flight from Southeast Asia. So there are parallels there. But as far as with radiation, it is my understanding this is unprecedented."

Radiation experts from the HPA are now inspecting two grounded British Airways passenger planes that flew between Moscow and London. A third British Airlines Boeing 767 is being flown in from Moscow today for similar checks.

Clark said the agency is examining the passenger jets with alpha-particle scintillation detectors. These devices are primarily used to detect polonium-210 -- the radioactive substance found in Litvinenko's body.
"If a person just comes in and sits in a seat and then goes off the plane, then the contamination will primarily be in that one seat," expert Michael Clark said.
"We've monitored the planes today and we're advising British Airways tonight on the extent of any contamination," Clark said on November 30. "And we are doing assessments based on a very pessimistic scenario."

Clark explains that by "pessimistic scenario" he means working from the assumption that a child may have been in a contaminated area.

No official announcement has been made on where radiation may be located on the passenger jets -- whether in the cargo bay that holds luggage or in the passenger area of the aircraft.
Passengers At Risk?

In instances in which radioactivity is discovered, Clark affirms that maps of the planes' interiors pinpointing the exact area of contamination are to be made to determine if passengers may have been at risk.

"Yes, that's what we're planning to do, so then the airline can identify the passengers and then we can take things further. So, it doesn't mean that everyone on the plane should make the contact," Clark said.

On November 30, British Airways issued a statement saying that up to 33,000 passengers traveled on 222 European flights in question, including 33 on the Moscow-London route. About 7,500 passengers have responded to authorities' request that they contact them if they feared they were at risk.
Clark described how the contamination could spread in the event a passenger carrying polonium-210 on his person or luggage boarded a plane.

"If a person just comes in and sits in a seat and then goes off the plane, then the contamination will primarily be in that one seat," Clark said.

However, according to Clark, even in a worse-case scenario there would be little danger of contamination, due to the short range of the alpha particles emitted by polonium-210.
Police Investigation Under Way
Clark declined to comment on any criminal investigation into the case.

"Our job is public health, and we do monitoring for that reason," Clark said. "The police investigation involves completely different radiation monitor. They are not part of our organization. They have a contract with another lab, a completely separate lab."

He said that while the HPA and police investigations sometimes focus on the same locations, the police work is often directed at targeted sites while the HPA casts a much wider net -- inspecting hundreds of rooms, restaurants, and other public areas.

Clark said the agency is also directly involved with measuring radiation levels of Litvinenko's family and associates.

"We're doing the urine testing of his family, people who nursed him, the medical staff," he said. "We're doing people who were in offices in close contact with Mr. Litvinenko, and we will announce those results when we can."
Facts About Polonium-210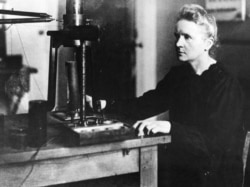 Marie Curie at work in 1925 (AFP)
Polonium, also called "radium F," was discovered by Marie Curie and her husband, Pierre Curie, in 1898 and was later named after Marie's homeland of Poland (Latin: Polonia).
It is an alpha emitter, meaning that although it is highly radioactive, it cannot penetrate human skin or a sheet of paper. Washing eliminates traces.
Contact with a carrier's sweat or urine could lead to exposure. But polonium-210 must be ingested or inhaled to cause damage.
Polonium-210 has a relatively short half-life of 138 days.
Polonium-210 occurs naturally in the environment (it is found in such things as dirt and tobacco) and in people at low concentrations. But acquiring a lethal amount would require individuals with expertise and connections.
Polonium-210 emits 5,000 times more alpha particles than radium, and an amount the size of the period at the end of this sentence would contain about 3,400 times the lethal dose. A dose like the one that killed former Russian spy Aleksandr Litvinenko would probably have been manufactured at a nuclear facility.
Russia exports 8 grams of polonium-210 monthly, all of it to the United States. Exports to Britain ended about five years ago.