In fact, the emigres' reactions to the mysterious death last week of Aleksandr Litvinenko are as varied as the community itself.

An estimated 150,000-250,000 ethnic Russians reside in the city. Some are descendents of members of the White movement who opposed the Bolsheviks. Some fled the Soviet Union after World War II. And others are dissidents who were expelled by the communist regime.

More recently, there has been an influx of new-generation emigres. Some -- like self-exiled former oligarch Boris Berezovsky and former intelligence agent Litvinenko -- made Britain their home for political reasons. And the vast majority of others just simply moved abroad to work and live.

Awareness Raised
Dimitry, a young writer who asks that his last name not be disclosed, says his everyday life has changed little as a result of the recent scandal.

"Generally I cannot say that the case of Aleksandr Litvinenko would have somehow changed my life or my behavior," Dmitry said. "Of course, if you go to a restaurant, at once there comes to your mind similar apprehension."

The investigation into Litvinenko's death continues to take twists and turns. It is known that his death is linked to poisoning by a radioactive substance called polonium-210. It is known that radioactive traces have been found in a sushi restaurant that Litvinenko had frequented, various locations of central London, and in two airliners that traveled between the British capital and Moscow.

And it is known that Litvinenko, who had run afoul of the Kremlin and who had close ties to Berezovsky, accused Russian President Putin of having a role in his death.

Dmitry does admit that he has concerns that those responsible for Litvinenko's death -- whoever they are -- might target other Russians abroad.

"Certainly it is of importance that active radioactive materials have been found in the center of London, because I remember with fear that some months earlier I myself was in that restaurant," Dmitry said. "It so happened I had a meeting there. And, of course, when such news develops, it is frightening."

Not To Worry

Count Andrei Tolstoy, a descendant and namesake of the iconic Russian writer Lev Tolstoy, says it is understandable some emigres have been shaken, but most shouldn't worry.

"I do not think that what has taken place would much trouble people who are now in Britain because it is in principle a very specific case," Tolstoy said. "And I simply don't believe it would involve everyone. We so far do not know the reasons, we do not know why has this happened."

Some, like this young computer specialist named Olga, simply think the whole affair is an example of media hype. "The whole history with the poisoning of Litvinenko was more for the media and the press. Therefore, for me it hasn't meant much," she said.

And Yelena Ragozina, herself a representative of the media as editor of the Russian-language "PulsUK," says she isn't convinced the case affects Russians any more than any other community in London.

"That kind of question makes me wonder a bit," Ragozina said. "Yes, we are Russians, yes it does involve us, because we know Russia better, but to say that we are more affected by it because he is a Russian rather than if he were a Frenchman, I can't [say]."

British Home Secretary John Reid had some advice this week for those who can say they feel affected, saying: "If anyone fears on rational grounds for their own safety then I would ask them to get in touch with the authorities."
Facts About Polonium-210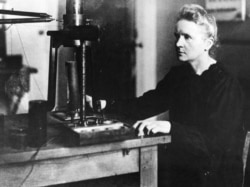 Marie Curie at work in 1925 (AFP)
Polonium, also called "radium F," was discovered by Marie Curie and her husband, Pierre Curie, in 1898 and was later named after Marie's homeland of Poland (Latin: Polonia).
It is an alpha emitter, meaning that although it is highly radioactive, it cannot penetrate human skin or a sheet of paper. Washing eliminates traces.
Contact with a carrier's sweat or urine could lead to exposure. But polonium-210 must be ingested or inhaled to cause damage.
Polonium-210 has a relatively short half-life of 138 days.
Polonium-210 occurs naturally in the environment (it is found in such things as dirt and tobacco) and in people at low concentrations. But acquiring a lethal amount would require individuals with expertise and connections.
Polonium-210 emits 5,000 times more alpha particles than radium, and an amount the size of the period at the end of this sentence would contain about 3,400 times the lethal dose. A dose like the one that killed former Russian spy Aleksandr Litvinenko would probably have been manufactured at a nuclear facility.
Russia exports 8 grams of polonium-210 monthly, all of it to the United States. Exports to Britain ended about five years ago.