Litvinenko, a former officer for Russia's Federal Security Service (FSB), died on November 23 in London after being poisoned by a major dose of radioactive polonium-210. He had defected to Britain in 2000 after becoming a fierce Kremlin critic.
In an article published today in the Russian daily "Moskovsky komsomolets," Lugovoi says he is not sure Litvinenko was the target, since a lot of people want to kill Zakayev and the two men worked together closely.
Many observers have pinned the blame for Litvinenko's death on Russian secret services. But Russia denied any involvement.
Former intelligence agent Aleksei Kandaurov told Ekho Moskvy radio station on November 26 that he shared this view.
"Taking into account who Litvinenko was, unfortunately, and God forbid -- and I reiterate, God forbid -- we should regard the involvement of our special forces as the most likely [scenario]," Kandaurov said.
However, he added that he was "absolutely sure" that Russian President Vladimir Putin -- himself a former FSB officer -- has no connection to Litvinenko's poisoning.
"Although formally we have the vertical power structure, in reality it is very fragmentary, and sometimes it is not at all clear who makes decisions," Kandaurov said. "But I think -- I am sure with regard to Litvinenko -- if we assume, God forbid, that our special forces are involved, I am absolutely sure that Putin did not order it, as he should have calculated the consequences."
In Britain, local government officials today said the country will start an official inquiry into Litvinenko's death expected to begin on November 30.
(Interfax, AP, mk.ru)
The Kremlin's Fallen Foes
The Kremlin's Fallen Foes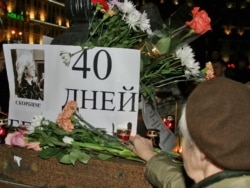 Mourners in Moscow mark the 40th day after the killing of investigative journalist Anna Politkovsksya on November 15 (TASS)

DANGEROUS DISSENT. A surprising number of vocal critics of the policies of Russian President Vladimir Putin have been killed or have died mysteriously in recent years. Although the Russian government has denied any involvement in any of the cases, some Kremlin watchers have begun speaking of a clandestine campaign to eliminate dissent.
April 17, 2003: Sergei Yushenkov, veteran liberal politician, Duma member, and leader of a staunchly anti-Kremlin party, is shot dead in Moscow.
July 3, 2003: Yury Shchekochikhin , liberal lawmaker and investigative journalist, dies of a mysterious allergic reaction. Many believe it was a case of deliberate poisoning, but the incident was never investigated as a murder.
February 13, 2004: Former acting Chechen President Zelimkhan Yandarbiyev is killed in an explosion in Doha, Qatar. Two Russian security-service agents are later convicted of carrying out the killing.
September 2, 2004: Investigative journalist Anna Politkovskaya falls ill mysteriously on a plane bound for the North Caucasus. Politkovskaya was heading to Beslan, North Ossetia, in a bid to negotiate the release of schoolchildren being held hostage there by Chechen militants.
December 2004: Former Ukrainian Prime Minister Viktor Yushchenko , running for president as a pro-Western candidate against Prime Minister Viktor Yanukovych, is poisoned. He recovers and goes on to win the presidency, although his poisoning remains a mystery.
October 7, 2006: Investigative journalist and vocal critic of Russian policies in the North Caucasus Anna Politkovskaya is gunned down in Moscow.
November 23, 2006: Former Federal Security Service agent Aleksandr Litvinenko, a vocal critic of Russia's secret services, dies of a mysterious poisoning in London.
CHRONOLOGY
An annotated timeline
of high-profile killings in Russia since the collapse of the Soviet Union.
SUBSCRIBE
For news and analysis on Russia by e-mail,
subscribe to "RFE/RL Russia Report."