Hussein Appeals Death Sentence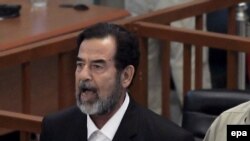 Saddam Hussein listens as the death penality is handed down against him on November 5 (epa) December 3, 2006 -- Former Iraqi President Saddam Hussein's lawyers today appealed the death sentence handed down to him on November 5.
Hussein and two other senior members of his regime were sentenced to death by hanging for the 1982 killings of 148 people in Al-Dujayl, north of Baghdad.
Under Iraqi law, death sentences are automatically appealed before a higher court within 10 days of being handed down.
But defense lawyers must file a formal appeal within 30 days.
A working group of the UN Human Rights Council ruled that Hussein's detention is "arbitrary" and called on Iraq not to carry out the death sentence against him. Earlier last month, Human Rights Watch described the Hussein trial as fundamentally flawed.
(compiled from agency reports)