The two sides also signed a declaration on the peaceful use of nuclear energy.
The head of the European Commission, Jose Manuel Barroso, said after talks with visiting President Nursultan Nazarbaev that Kazakhstan will play an important part in the EU's evolving energy security strategy.
"Security of energy supply is very much at the top of the European Union's political agenda, and the European Union is keen to enhance relations with Kazakhstan, a partner that we give a great value," Barroso said. "In fact, we were very encouraged during our meeting to listen to President Nazarbaev when he said he is ready to consider all those issues in a very pragmatic and a very economic manner."
Nazarbaev said after the meeting that Kazakhstan supports EU plans to source up to a quarter of its energy needs from the Caspian region.
He called "this visit and these talks, as a whole...an important stage in the development of our bilateral ties."
He said his country would consider all economically viable routes to transit of oil and gas to Europe, whether via Russia or trans-Caucasian pipelines.
"Generally speaking, we will use all [export] routes that are profitable to Kazakhstan," Nazarbaev vowed.
Uranium Source
Kazakhstan is the world's third-biggest producer of uranium but accounts for just 3 percent of uranium deliveries to EU utilities.

The nuclear agreements signed today cover areas such as increasing nuclear safety, controlled nuclear fusion, research and development, and trade in nuclear materials.

The deals came during a visit to Brussels by President Nazarbaev, who was also due to meet NATO officials.
"These documents are proof of the importance the European Union and Kazakhstan give to increasing cooperation in the energy sector," Barroso said.
OSCE Question Looms

Nazarbaev's visit coincides with a meeting in Brussels of foreign ministers of the Organization for Security and Cooperation in Europe (OSCE) to debate issues that include Kazakhstan's bid to chair that organization in 2009.
The Kazakh leader today confirmed his country's intention to bid for the OSCE chairmanship in 2009 -- and not later, as the United States and some other OSCE members have asked.

(Reuters)
Prague Energy Forum, October 23-24
Prague Energy Forum, October 23-24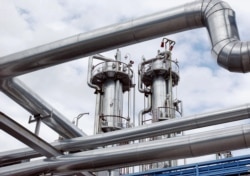 An oil refinery in Western Siberia (TASS)

STABILITY AND SECURITY: On October 23-24, RFE/RL and the Warsaw-based Economic forum cosponsored the Prague Energy Forum at RFE/RL's Prague broadcasting center. The Energy Forum brought together nearly 100 experts and policymakers from Europe, Central Asia, and the Middle East to discuss key issues of energy supply and security in the years to come.
HIGHLIGHTS: RFE/RL presents some of the key presentations from the Energy Forum and interviews with some participants:
Czech Premier Urges Reduced Energy Dependence On Russia
Interview: Nature A Bigger Threat To Security Than Terrorism
Russia Can Boost Security Through Transparency
Interview: Russian Expert Addresses Europe's Security Concerns
U.S. Official Outlines Concerns About Iran's Nuclear Program
Iranian, Western Experts Spar Over Tehran's Nuclear Ambitions
Experts Ponder Future 'Gas Wars'
Former U.S. Ambassador Says Kyiv Can Cope With Gas Price Rise
Interview: Tbilisi Bent On Energy Independence


MORE: Click on the image to see the conference program, participant list, and other materials.