Addressing reporters in Astana, Piebalgs said the first of those two documents explores possible energy supplies to the EU from Kazakhstan and investments in the Kazakh energy sector.
The other document, which the European Commission agreed to back on October 24, envisages cooperation in the peaceful use of nuclear energy.
Kazakhstan is the world's third-largest uranium producer, after Australia and Canada, but accounts for just 3 percent of uranium deliveries to EU nuclear facilities.
Piebalgs said that the EU regards energy cooperation with Kazakhstan as a way to diversify its supplies.
The EU relies heavily on Russia for its natural gas, and the bloc is seeking to reduce the risks of disruption.
Russia temporarily restricted the flow of natural gas to Ukraine in January, with the effects felt by countries in Central Europe within a day or so. Supplies were restored after a deal was reached several days later.
(Reuters, Interfax-Kazakhstan, Kazakhstan Today)
Russia And Global Energy Security
Russia And Global Energy Security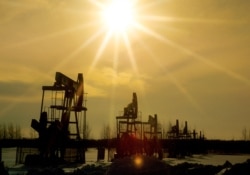 An oil field in Russia's Republic of Bashkortostan (TASS file photo)


ENERGY SECURITY is increasingly moving to the top of the EU's agenda in its dealings the outside world. A recent report identifies the European Union's main energy objectives as not just securing gas and oil deliveries from Russia, but also ensuring that it has reliable alternative sources, including in Central Asia. Nonetheless, EU officials say relations with Russia take center-stage in their thinking....(more)
RELATED ARTICLES
EU Maintains Codependent Energy Relationship With Russia
Turkmenistan: The Achilles' Heel Of European Energy Security
U.S. Official Urges Reforms In Energy-Producing Countries
ARCHIVE
A
complete archive
of RFE/RL's coverage of energy issues in the Caspian Sea region and Russia.