Amnesty Condemns 'Very Limited' Rights Of Estonia's Russians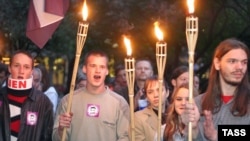 Claims of discrimination have also prompted demonstrations by Russian-speakers in neighboring Latvia (file photo) (ITAR-TASS) TALLINN, December 7, 2006 (RFE/RL) -- Amnesty International has called on authorities in Estonia to end the discrimination of the country's Russian-speaking minority.
In a report today, the rights watchdog said the Russian-speaking minority in Estonia -- about a third of the population -- enjoys "very limited linguistic and minority rights."
It says Russian-speakers are "de facto excluded from the labor market and the educational system" by a number of restrictive requirements.