Russia Says Protecting 'Compatriots' Is A Priority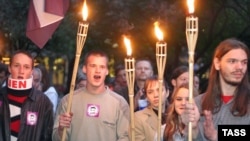 Russian-speakers in Latvia demonstrate in 2005 for greater rights (ITAR-TASS) October 24, 2006 -- President Vladimir Putin says protecting the rights of what the Russian government calls "compatriots" living abroad is a "moral duty" and a "national priority" for Russia.
Putin, in particular, called on the Latvian and Estonian governments to uphold "European standards" with regard to the rights of Russian-speakers in their countries.
"I cannot ignore the widely known fact that a massive number of people have no citizenship in Latvia and Estonia," Putin told a conference attended by more than 600 representatives of the Russian diaspora in St. Petersburg.
"It is necessary to try to get the authorities of those countries to break out of the inertia of obsolete approaches and come into compliance with European legal standards in practice," he continued.
Putin said Latvia and Estonia are home to about 600,000 Russian-speakers, whom he described as "noncitizens who are permanent residents."
The Russian president also called on other former Soviet republics not to undermine the use of the Russian language.
Earlier this year, the Russian government announced a six-year program offering cash and social benefits to "compatriots" living abroad who return to Russia. The program, however, gave only a vague definition of "compatriots".
The program is part of efforts to reverse Russia's dramatic population decline.
(ITAR-TASS, Interfax)