Kazakh PM Criticizes Russian Repatriation Plan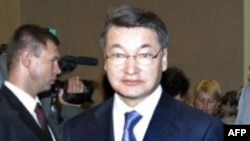 Daniyal Akhmetov (file photo) (AFP) PRAGUE, August 15, 2006 (RFE/RL) -- Kazakh Prime Minister Daniyal Akhmetov today warned that Moscow's plans to lure ethnic Russians living in former Soviet republics into Russia may have negative economic consequences for his country.
A government statement quotes Akhmetov as telling a cabinet meeting in Astana that Russia's plans may prompt non-ethnic Kazakh skilled workers to leave the country.
Under a program made public earlier this year by President Vladimir Putin, ethnic Russians who would agree to migrate to Russia would receive cash, social benefits, and assistance in applying for citizenship.
The plan aims at stemming Russia's alarming population decline.
More than 45 percent of Kazakhstan's 15.4 million population is made of non-ethnic Kazakhs, of which Russians account for nearly one-third.
Akhmetov today said Kazakhstan, whose blooming economy has been attracting many workers from neighboring Central Asian countries, has shown a positive migration rate in the past two years. But he said Russia's plans may reverse that trend.
RFE/RL Central Asia Report

SUBSCRIBE For regular news and analysis on all five Central Asian countries by e-mail,
subscribe to "RFE/RL Central Asia Report."