Calling the situation in Iraq "both grave and deteriorating," the Iraq Study Group report has urged President Bush to make sweeping policy changes -- changes he has previously rejected or explored but let drop.
One recommendation in the report released on December 6 is to set a timetable for withdrawing most U.S. combat troops. It recommended shifting the U.S. military role to one of advising and training Iraqi forces, leaving only support units in the country by early 2008.
Engaging Iran
At the same time, the commission, comprised of influential members of both U.S. political parties, called for engaging with Syria and Iran as part of a "new diplomatic offensive" to help stabilize Iraq.
The Bush administration has previously refused to engage in direct talks with either Iran or Syria. It accuses both of sponsoring terrorism and fanning regional instability, not only in Iraq but also in Lebanon.
Speaking on December 6 in the Netherlands, Iranian Foreign Minister Manuchehr Mottaki reacted to the commission's call for direct talks: "Maybe [the United States] needs to have a good end for the crisis in Iraq. If it is so, we are in the position to help. May, suddenly, you ask, how? I don't know how. They have to say how, but we are in the position to help, to finalize this crisis in Iraq. Yes."
Tehran has close ties with the Iraqi Shi'ite religious parties that dominate the Baghdad government. Iranian Supreme Leader Ayatollah Ali Khamenei last month urged the Iraqi government to push for a speedy pullout of foreign troops from the country.
'Bush Admits He Was Wrong'
Syria has yet to react officially to the recommendation of talks. But one Syrian parliamentarian, Muhammad Habash, said on December 6 that the report is "fair to Syria's role in the region but it is not the first one. There are a lot of reports that warned Bush about getting involved in Iraq, but he did not respond to any warning."
Habash added that Bush "is obliged to respond to the report" because the opposition Democrats now hold a majority in Congress. "So we think that [the Iraq Survey Group's] report carries good views to the region and maybe it is a start to solve the biggest problems and we hope President Bush has the courage to say to the world and to his people that he was wrong," he added.
In Iraq, the Muslim Scholars Association, a Sunni Arab group that U.S. officials often charge with ties to the insurgency, responded to the suggestions in the report.
"I believe that this report is very realistic and that's why President Bush described it as being very harsh," spokesman Bashar Faidi said in Amman. "And this reality showed a bundle of realities. The first truth was admitting failure: there is no victory, there is no progress, there is no way of improving the situation in Iraq."
Topic For Discussions
Bush has not yet reacted to any of the Iraq Study Group's specific proposals. But he has said he will take them seriously.
After receiving the report, Bush called it "an opportunity to come together [with other U.S. leaders] and to work together on this important issue."
Britain, which is the United States' closest ally and also has troops in Iraq, will also closely study the report, Foreign Secretary Margaret Beckett said in London.
Beckett described the report as "a substantial and complex piece of work to which, of course, the prime minister and senior British officials have contributed. From those discussions, we get the impression that their thinking was broadly in line with our own. But, obviously, we need to read and digest their formal recommendations."
Bush is meeting with British Prime Minister Tony Blair in Washington today and they are expected to discuss the report.
Regional Initiative
The report contained 79 specific recommendations, including that Washington declare that it will reduce its support for Iraq unless Baghdad meets security goals.
And it urged the president to launch a new effort to solve the Israeli-Palestinian conflict as way of easing regional tensions helping fuel the violence in Iraq. Bush has previously resisted linking those two conflicts.
Israel today said it rejected any connection of Arab-Israeli issues to the Iraq crisis. Prime Minister Ehud Olmert also ruled out any immediate talks with Syria, saying "its subversive action in Lebanon and its support for the extremist [Palestinian group] Hamas...does not create a picture of the possibility for talks in the near future."
The pressure is high now in Washington for Bush to show his flexibility by adopting at least some of the recommendations of the bipartisan commission.
"This report that was delivered today represents another major blow at that 'stay-the-course' policy," Senator Carl Levin, the incoming chairman of the U.S. Senate Armed Services Committee, said on December 6. "It is clearly, strongly supporting changing the course in a number of ways, and one of the ways is the reduction of our forces in Iraq as a way of telling the Iraqi government that they must resolve this problem politically, as that is the only way the violence can end."
All eyes are now on President Bush to see how he will respond.
On The Verge Of Civil War
On The Verge Of Civil War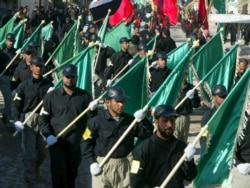 The Imam Al-Mahdi Army on parade (epa)
HAS THE CONFLICT IN IRAQ BECOME A CIVIL WAR? Many observers have concluded that the tit-for-tat sectarian violence that emerged after the February 2006 bombing of a mosque in Samarra has become a full-blown civil war.... (more)


RELATED ARTICLES
U.S. Media Starts Using 'Civil War' Label
Iraqi Prime Minister Under Fire From All Sides
U.S. Expert Discusses Prospects For Stabilization
President Says Iraq Needs Iran's Help
Saudi Arabia To Seal Off Border With Security Fence

THE COMPLETE PICTURE:
Click on the image to view RFE/RL's complete coverage of events in Iraq and that country's ongoing transition.