The theme of this year's observance is reducing poverty.

UN High Commissioner for Human Rights Louise Arbour said in a statement that poverty is a both cause and a result of human rights violations.
Afghan Suffering
In Kabul, President Hamid Karzai reportedly wept as he spoke at a Human Rights Day event of Afghan civilians being killed by militants or NATO and U.S.-led forces during counterterrorism operations.
"Still today our children are dying," Karzai said, according to dpa. "Hundreds have been killed, some of them by the terrorists and some in the fight against terrorists." He told the story of a 4-year-old boy paralyzed after a NATO air strike in the southern Kandahar Province.
Karzai used the speech to once again point the finger at Pakistan for not doing enough to prevent cross-border attacks by terrorists.
Neither can we tell the terrorists not to come from Pakistan nor can we tell the coalition forces not to kill our children in the fight against terrorism," Karzai said.
He added in a voice that was breaking under emotion with tears in his eyes that "the oppression has gone beyond its limit," dpa reported.
Some 3,000 people have died in violence in Afghanistan in 2006, dpa noted, roughly one-third of them noncombatants.
Rallies Take Up Various Causes

Rallies around the world include a demonstration in India's Kashmir region to protest rights violations by the authorities there, a march on the Sudanese Embassy and the British prime minister's official residence in London to call for an international peacekeeping force in Sudan's Darfur region, and a Communist Party protest in Moscow to vent anger over the rising cost of services.

Around 500 protesters turned up in London, led by women's and human rights groups that include Amnesty International.

Protesters reportedly included victims of rape and sexual violence in Darfur, where violence in the past three years has killed as many as 300,000 people and displaced more than 2 million more.

Police in Indian Kashmir today detained at least 30 people protesting against alleged human rights violation by Indian security forces in the Himalayan region. More than 300 members of the Jammu Kashmir Liberation Front (JKLF) marched in Kashmir's capital, Srinagar. The JKLF says atrocities in Kashmir have increased.

In Moscow, about 2,000 Communist Party sympathizers rallied in the center of the city to protest against community service price rises. Communist Party leader Gennady Zyuganov expressed anger at price hikes planned by the government.

(compiled from agency reports)
Voices Of Forum 2000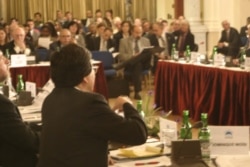 A session of Forum 2000 in Prague on October 10, 2005 (RFE/RL)
IDEAS OF OUR TIMES. RFE/RL has a close relationship with Forum 2000, an important global conference of ideas and initiatives. In October 2005, RFE/RL sat down with several Forum 2000 participants to find out more about their perspectives on the challenges and opportunities facing the modern world.
Andre Glucksmann | The obligation to intervene
Prince El Hassan bin Talal | Universal consciousness brings us together
Bronislaw Geremek | The democratic community rejects dictators
Former WTO head Michael Moore | Free trade lifts all boats
Anwar Ibrahim | The United States must engage with the world
Dominique Moisi | The future of the EU
James Woolsey | The long war of the 21st century
Ghassan Salame | Regime replacement harder than regime change
James Zogby | American identity is not a function of ethnicity


An archive of RFE/RL's interviews with newsmakers and other leading figures from across our broadcast region.