Banned Azerbaijani Broadcaster To Return To Airwaves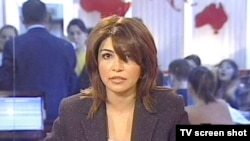 An ANS newscast (TV screen shot) BAKU, December 11, 2006 (RFE/RL) -- Azerbaijan's independent broadcaster ANS is due to go back on air on December 12, almost three weeks after authorities revoked its license over alleged violations of broadcasting regulations.
The head of the National Radio and Television Council, the body that pulled ANS off the air, announced the decision today at a news conference in Baku.
ANS is an RFE/RL FM affiliate and is widely considered the most popular independent TV and radio channel in Azerbaijan.