EU Cuts Size Of Force In Bosnia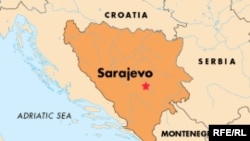 (RFE/RL) December 11, 2006 -- EU foreign ministers decided today against an early resumption of partnership talks with Serbia, and agreed to reduce the size of an EU force in Bosnia.
The foreign ministers also agreed that the security conditions in Bosnia had improved enough to reduce the size of the EU force in the country, but they ruled out a full withdrawal.
Partnership talks with Serbia have been frozen because of Serbia's failure to catch a key war crimes suspect, but several countries today urged a review after general elections, which are to be held on January 21.
(Reuters, AFP)