Speaking to RFE/RL's Uzbek Service by phone from Andijon, Oinonen said the delegation met with city officials, but had no time left to talk to residents.
"We met with the local prosecutor's office, the local police, and Interior Ministry people," he said. "We went through each of those places which have been mentioned in international reports and we went through the events that [took] place at each point, such as the prison, the police [station], the Babur Square, [and] the hokimiyat (regional administration building). We went through practically all the places that were important during the Andijon events."
Uzbek authorities say 187 people -- including many security officers -- died in Andijon after what they described as foreign-funded, armed Islamic militants seized the city.
Rights groups dispute the official account of events and accuse security forces of massacring hundreds of unarmed civilians while reasserting control over the city.
The Uzbek government, which has persistently refused to let the international community investigate the Andijon events, agreed on November 8 to "discuss" last year's violent events with EU experts.
In return, the EU did not expand the sanctions imposed on Uzbekistan last year and contented itself with extending the existing ones for another six months.
(RFE/RL's Uzbek Service)
Andijon Refugees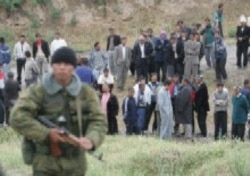 Uzbek refugees in Kyrgyzstan on May 19, 2005 (epa)


NO PLACE TO GO: More than 400 Uzbeks who fled in panic in the hours and days after troops opened fire on demonstrators in Andijon one year ago have been granted political asylum outside Central Asia. In limbo for weeks in Kyrgyzstan as they and the world tried to come to grips with the bloody events of May 12 and 13, they feared for their lives and the lives of family members as the official crackdown continued.... (more)
RELATED ARTICLES
Andijon Refugees In Romania Have Escaped Violence, But Not Heartache
Refugees In Romania Await Decision On Destination
Refugees Want To Return Only If Regime Changes


THE COMPLETE STORY: A dedicated webpage bringing together all of RFE/RL's coverage of the events in Andijon, Uzbekistan, in May 2005 and their continuing repercussions.
CHRONOLOGY
For an annotated timeline of the Andijon events and their repercussions, click here.