People with disabilities tend to live on the margins of society, and as a result their rights are often overlooked. Among the obstacles they face are difficulties in getting proper education and jobs, even when they are well-qualified; limited access to information, proper health care, and transportation; and low social acceptance.
Tina Minkowitz, a representative of the World Network of Users and Survivors of Psychiatry, a nongovernmental organization, says she hopes the convention will push UN member states to implement changes within their legal structures to accommodate the needs of persons with disabilities.
"Sign language and other alternative methods of communication must be recognized in all situations of information, education, and employment," she says. "Plans and programs will need to be developed targeting the full inclusion and development of all people with disabilities. Women, girls, and boys with disabilities are doubly discriminated against in our societies, often made invisible, and must be prioritized when implementing the convention to guarantee their rights and equal opportunities."
From Welfare To Protecting Rights
The convention requires countries to guarantee freedom from exploitation and abuse for the disabled, while protecting rights they already have -- such as ensuring voting rights for the blind.
Some observers consider the convention to be a major step toward changing the perception of the "disability" issue away from a social welfare concern to a human rights one. That means fostering the recognition that all people must be provided opportunities to live their lives to their fullest potential.
The developed industrialized countries have already provided much accommodation to disabled persons in law and in practice. But according to World Bank estimates, approximately 20 percent of the world's poorest people are disabled and tend to be regarded in their own communities as the most disadvantaged.
Russia's Pro-Active Delegation
Don Mackay, New Zealand's UN ambassador and the chief negotiator of the convention, says that Moscow is showing "significant interest" in making the Russia's legal framework more accommodating toward persons with disabilities.
"The Russian delegation was a very active delegation. And it was not a delegation that sort of sat back and allowed things to just continue their course," he says. "They participated actively in the negotiations. Initially, I would say that they were very cautious in their approach, but as the negotiations went on, they became considerably less cautious."
MacKay said that Russia sent high-ranking officials to negotiate the adoption of the convention and that the delegation sought to find solutions rather than emphasize problems.
Dr. Liisa Kauppinen, who is president emeritus of the World Federation of the Deaf, says that after working on numerous projects in Russia in the past 10 years, she is convinced that the country is making progress toward improving the situation of disabled people.
"And Russia, for example, has a new disability law which follows the principle of equalization of opportunities for disabled people, and actually laws have been passed in those countries [CIS] but were never implemented" Kauppinen says. "So, I think there are big problems with implementing the convention in these countries, but there are openings at the same time."
Mackay cautioned against unreasonable enthusiasm and belief that the adoption of the convention alone will lead to quick solutions. He says that positive change will be a gradual process. "Again, it will come down to state practice and consistent state practice," Mackay says. "And it will also, frankly, it will be evolutionary."
The convention will be open for UN member states to sign starting on March 30, 2007, and it will enter into force when it is ratified by 20 countries.
RFE/RL Reports On AIDS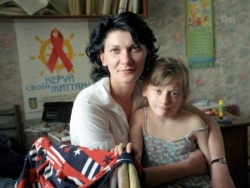 An HIV-positive Ukrainian woman and her daughter (epa)

FACES OF THE EPIDEMIC: HIV-infection rates continue to soar in many parts of RFE/RL's broadcast region, from Ukraine and Russia to Central Asia. RFE/RL frequently reports on the problems associated with the pandemic and efforts to combat them.
RELATED ARTICLES
China Steps Up Fight Against Spreading Epidemic
Iranian Brothers Change The Face Of HIV, Drug-Addiction Treatment
Drug-Treatment Effort Targets HIV/AIDS In Afghanistan
Tatarstan Clinic Is Bold Exception In Russia's HIV Battle
Fourteen Kazakh Children Infected With HIV In Hospitals
UNAIDS Head On Epidemic In CIS
Russia's 'Miss Positive' Puts Public Face On Battle With HIV/AIDS