Reports say opponents of Iran's hard-line president have a clear lead in races for local councils and for the Assembly of Experts.
As results slowly emerge from the Iranian city council and Assembly of Experts elections there seems to be one clear winner: the conservative but pragmatic Ali Akbar Hashemi-Rafsanjani, who was badly defeated by Ahmadinejad during last year's presidential vote.
Iran's largest reform party, the Islamic Iran Participation Front, said in a statement that Ahmadinejad has suffered a "decisive defeat."
Former President Faring Well
Rafsanjani has thus far received more than 1.3 million votes and is at the top of the list in Tehran among candidates for the Assembly of Experts, the powerful body that oversees the work of Iran's supreme leader and has the power to dismiss him.
Rafsanjani's main rival, Mohammad Taghi Mebah Yazdi, is considered to be Ahmadinejad's mentor. He currently trails far behind Rafsanjani, though he does have enough votes to retain a seat on the Assembly of Experts.
Some observers say Rafsanjani's success is a result of a 60 percent turnout and the support of reformists who rallied behind the former president after reformers were disqualified by the Guardians Council from running in the elections.
Others say many of the votes in Rafsanjani's favor were, in fact, a sign of displeasure with Ahmadinejad and his hard-line policies.
Voting Against Ahmadinejad?
"I think the vote for Hashemi[-Rafsanjani] could demonstrate opposition against Mr. Ahmadinejad because his international and domestic policies are just the opposite of policies advocated by Mr. Rafsanjani," Sadegh Zibakalam, a Tehran-based professor of political science, told Radio Farda.
Rafsanjani's positive results come amid reports that Iranian Supreme Leader Ayatollah Ali Khamenei gave him his backing in order to restrict the influence of fundamentalists and to ensure a balance within the Islamic establishment.
The Iranian daily "Kargozaraan" reports that -- for the first time in the history of the Islamic republic -- those who are critical of the clerical body seem to have participated in the elections. According to the daily, the moderates have pushed the extremists to the margins.
Vetted Candidates
Some citizens refused to vote, arguing that the elections were not democratic due to vetting by the Guardians Council, which resulted in two-thirds of all the candidates being disqualified. The council, which must approve the candidates in all elections, disqualified most reformists and many fundamentalist candidates.
Partial election results suggest that Ahmadinejad's allies are also facing defeat in many of the nationwide city-council elections, where reformists have gained some influence.
The partial results from Tehran show that candidates supporting Tehran Mayor Mohammed Bagher Qalibaf, a moderate conservative, have taken the lead and are likely to gain seven of the 15 seats on the capital's city council, which elects the mayor.
Ahmadinejad served as Tehran's mayor before being elected president.
Reformists Staging Comeback?
The results also show that at least four reformist candidates would get seats on Tehran's city council, including former female Vice President Massoumeh Ebtekar and a former minister, Ahmad Masjed Jamei.
Allies of Ahmadinejad, including his sister -- who campaigned under the unusual name of "The Good Scent of Service" -- have so far not gained a significant amount of the vote. Analysts say they're likely to get at least three seats on Tehran's city council.
A prominent Tehran journalist, Mashaollah Shamsolvaezin, told Radio Farda that the results of the municipal votes are a sign of growing dissatisfaction with Ahmadinejad.
Iran's largest reform party, the Islamic Iran Participation Front, said in a statement that Ahmadinejad has suffered a "decisive defeat."
Holocaust Conference
There is also a lot of criticism of Ahmadinejad's government for stepping up censorship and clamping down on critics. Ahmadinejad's anti-Israeli remarks and his denial of the Holocaust have been also criticized.
Last week's Holocaust conference in Tehran -- which was held on Ahmadinejad's initiative and attended by a number of Holocaust deniers -- was condemned by several Iranian intellectuals and citizens who said they were embarrassed by the event.
Yet some of the president's supporters deny that the election results could be a setback for him and said that local councils are not political and do not have an influence on political developments.
Some analysts have said that partial elections results show a growing alliance between reformists and moderate conservatives, at the expense of the extremist supporters of Ahmadinejad.
During the current elections, reformist united while conservatives became more divided, likely splitting the fundamentalist vote.
Conservatives Divided
An editor of the conservative daily "Resalat" is quoted by the Boston-based "Christian Science Monitor" as saying that conservatives failed in their efforts to present one list for the election. "Unity when in power is harder [to achieve] than when you are out of power," editor Amir Mohebian said.
Iranian deputy parliament speaker Mohammad Reza Bahonar has said the final election results are expected to be released within three days.
Reformists have expressed concern that the votes could be tampered with by Ahmadinejad supporters and have warned of the consequences of such action.
(Radio Farda broadcasters Behruz Karooni and Nima Tamaddon contributed to this report.)
Women In Iran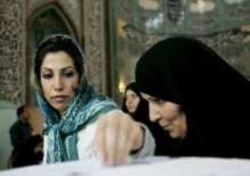 Women in Tehran (epa file photo)

CALLING FOR MORE RIGHTS: Although women played key roles in Iran's 1979 Islamic Revolution, the place of women in post-revolutionary society has been a vexing question. Iranian women have struggled to bring attention to their calls for greater rights in their country's rigid theocratic system, calls that have often clashed with the values proclaimed by conservatives in society. (more)
RELATED ARTICLES
Tehran Police Renew Campaign To Combat 'Un-Islamic' Dress
Iranian Peace Prize Laureate Shirin Ebadi On Women's Rights
Activists Concerned About Self-Immolation Of Iranian-Kurdish Women
The Younger Generation's 'Tehran Blues'
ARCHIVE
RFE/RL's coverage of Iran. RFE/RL's coverage of issues concerning women throughout our broadcast area.

SUBSCRIBE
For a regular review of civil-society developments throughout RFE/RL's broadcast region, subscribe to "RFE/RL (Un)Civil Societies."