Bush said the pact is a historic step in improving relations between "the world's two largest democracies."
"The United States and India are natural partners," he added. "The rivalries that once kept our nations apart are no more. And today America and India are united by deeply held values."
India hasn't signed the Nuclear Nonproliferation Treaty (NPT), but administration officials have dismissed criticism that the treaty weakens international efforts against nuclear proliferation.
Critics also say the agreement could set off an arms race between the two nuclear rivals, India and Pakistan.
The pact provides an exemption to U.S. law to allow civilian nuclear trade with India in exchange for Indian safeguards and inspections at its 14 civilian nuclear plants. But the treaty also forbids such inspections at eight of India's military plants.
Russia's Nuclear Power Sector
Russia's Nuclear Power Sector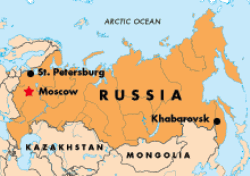 Click on the map to view the locations of Russia's civilian nuclear power plants.



POWER OF THE ATOM: As Russia's economy recovers from the collapse of the 1990s, the government is moving forward with plans to expand its nuclear-energy sector. Russia currently has 31 civilian nuclear-power reactors in operation, with the newest being Kalinin-3, which came on line in 2004. Nuclear power accounts for 16 percent of Russia's total power generation. Three additional reactors are currently under construction.
Many of Russia's reactors are quite old. In 2000, the government announced plans to extend the working lifetime of 12 first-generation reactors. So far, seven of these reactors have been upgraded for 15-year extensions and all 12 of them are expected to be replaced by 2020.
Russia controls about 4 percent of the world's known uranium deposits, producing some 2,900 tons of uranium in 2002. Russia has four operating uranium-enrichment plants, the largest of which is located at Novouralsk near Yekaterinburg.
The government has not yet approved a proposal for a permanent nuclear-waste storage facility on the Kola Peninsula.