Hu is sure of a warm welcome when he arrives on November 23 in Islamabad, where he is to hold talks with Pakistani President Pervez Musharraf.
"I think Hu Jintao views Pakistan as a symbiotic type of relationship, whereas India is a force to be reckoned with, so the two approaches are quite different."
Strong Allies
Beijing has long supported Muslim Pakistan economically and militarily, and both Hu and Musharraf will be anxious to show the world that those ties have not been diminished by Hu's successful visit to India, which concludes today.
Fazal Urrahman, the director of East Asian studies at the Institute of Strategic Studies in Islamabad, told RFE/RL that the Pakistanis will be looking for a substantial upgrade of trade ties. This will help balance the flourishing trade links between India and China, which were further strengthened by Hu's visit to New Delhi.
"The main thrust of this visit would be on economic relations and we are looking forward to an upgrading of our economic interaction with China, and I think it is hoped that during this visit the free trade agreement between the two countries will be signed," he says.
But Beijing's interest in Pakistan goes well beyond the economic sphere, into the realm of the strategic influence which China can wield in the South Asian region. China expert Alex Neill, of the Royal United Services Institute in London, stresses its importance.
"The Chinese alliance with Pakistan is one of the lynchpin alliances of the region and I think Pakistan is viewed [by China] as a considerable foothold, it's a very special relationship which needs to be retained," Neill says.
Moving Closer To India
With this in mind, some reports say Hu and Singh may discuss closer cooperation on civilian nuclear power to offset Washington's proposal to offer advanced nuclear power technology to India.
Certainly, China is suspicious of the warming ties between India and the United States, which are seen as an attempt by Washington to contain China's political influence as its massive economy gives it ever more weight.
Despite Hu's visit to India, and his appeal today for a new Sino-Indian strategic relationship, Beijing and New Delhi remain on their guard against one another, realizing that as regional giants they appear fated to be economic and possibly political competitors.
By contrast, analyst Neill describes Sino-Pakistani relations as a symbiosis -- meaning the two sides enjoy close ties even though they are quite dissimilar.
An Eye On Afghanistan
"He [Hu] does have to play a balancing act between India and Pakistan, but the dynamics are rather different in that India is a rising power in Asia and an economic engine driving the whole region, and is a potential competitor with China, while Pakistan is not that," Neill says. "So I think Hu Jintao views Pakistan as a symbiotic type of relationship, whereas India is a force to be reckoned with, so the two approaches are quite different."
Apart from economics, regional security will also be an important topic likely to be discussed in Islamabad by Hu and Musharraf -- particularly the sharpening conflict in Afghanistan.
Analyst Urrahman says that while "Afghanistan will certainly come up as an issue of mutual interest; Pakistan and China have fairly similar views as far as developments in Afghanistan are concerned: both are concerned about stability and the return of peace to that country because it is a neighboring country bordering both China and Pakistan."

Hu's visit to Pakistan is his first as China's president, and it will last three days.
Iran And China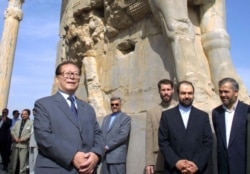 Chinese President Jiang Zemin visiting the ancient Persian capital of Persepolis in April 2002 (epa)


TWO REEMERGING CULTURES: At a joint RFE/RL-Radio Free Asia briefing at RFE/RL's Washington, D.C., office on November 9, John Calabrese -- scholar in residence at the Middle East Institute who teaches foreign policy at American University -- discussed the growing ties between China and Iran in the context of China's economic boom and its overall relations with the Middle East. He also looked at potential sore points in the two countries' bilateral relations.
LISTEN
Listen to the complete discussion (about 90 minutes):

Real Audio
Windows Media
RELATED ARTICLES
U.S. Commission Concerned About SCO's Influence In Central Asia
IMF Seeks To Recognize And Restrain Beijing's Growing Power
Beijing Makes Further Economic Inroads Into Central Asia
Tehran's New Signals Could Hint At Pressure From Moscow, Beijing
ARCHIVE
RFE/RL's English-language coverage of
China
and
Iran
.
SUBSCRIBE
For weekly news and analysis on Iran by e-mail,
subscribe to "RFE/RL Iran Report."