Think Tank Warns Iraq Faces 'Disintegration'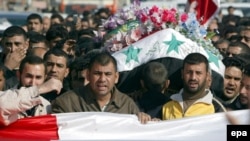 Scene from a funeral on December in Baghdad (epa) December 19, 2006 (RFE/RL) -- A new report by the International Crisis Group warns that Iraq faces "complete disintegration into failed state chaos," and urges the United States to adopt a radical change of strategy to end the crisis.
The Brussels-based think tank criticizes the U.S. insistence on supporting Prime Minister Nuri al-Maliki's coalition government. It calls instead for the international community to open talks with all Iraq's warring parties.
The document came a day after the U.S. Defense Department issued a report saying the number of Iraqi insurgent attacks on U.S. troops and Iraqi security forces and civilians has risen to a new record high.
Statistics released by the Pentagon say the average number of insurgent attacks per week rose to 959 during the three months to November 10.


SUBSCRIBE For weekly news and analysis on Iraq by e-mail,
subscribe to "RFE/RL Iraq Report."