Syrian Leader Arrives In Moscow To Discuss Lebanon, Iraq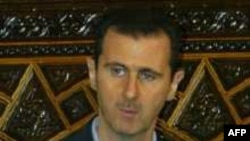 Bashir al-Assad (file photo) (AFP) December 19, 2006 -- Syrian President Bashar al-Assad has arrived in Moscow for talks with his Russian counterpart Vladimir Putin.
Al-Assad arrived late on December 18 for the talks scheduled for today.
The two leaders are expected to discuss the political crisis in Lebanon, the situation in Iraq, and in the Palestinian territories.
Al-Assad's two-day visit comes on the heels of a trip to Moscow by Lebanese Prime Minister Fuad Siniora, who sought Russian assistance to settle relations with Syria.
(AFP, ITAR-TASS)