Car Bomber Strikes Baghdad Checkpoint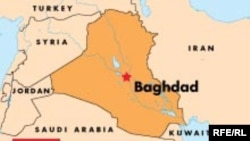 (RFE/RL) December 20, 2006 -- Reports say at least 11 people have been killed and 30 injured in a suicide car-bomb attack today in the Iraqi capital, Baghdad.
The bomber is reported to have crashed his vehicle into a police checkpoint in the Jadriyah district of Baghdad, and police officers and civilians are reported among the casualties.
(compiled from agency reports)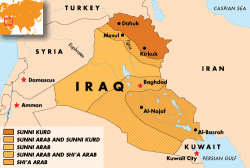 Click to enlarge the image.
SUNNI, SHI'A: Iraq is riven along sectarian lines, faults that frequently produce violent clashes and are a constant source of tension. Sectarian concerns drive much of Iraqi politics and are the main threat to the country's fragile security environment.


THE COMPLETE PICTURE: Click on the image to view RFE/RL's complete coverage of events in Iraq and that country's ongoing transition.