The allies of Tehran's moderate conservative mayor, Mohammad Baqer Qalibaf, have gained seven seats and reformist have four in the 15-member city council.
According to the results by Iran's Interior Ministry, Ahmadinejad's allies have gained three seats and one seat has been won by an independent candidate.
The results of the elections for the Assembly Of Experts that oversees the work of the Supreme Leader were also seen as a setback for Ahmadinejad.
The final results released earlier this week showed that Former President Ali Akbar Hashemi-Rafsanjani -- a moderate conservative -- garnered more than 1.5 million votes -- the most of any candidate.
Ahmadinejad's spiritual mentor, Mohammad Taghi Mesbah Yazdi, was in sixth place with close to 900,000 votes. However he has enough votes to retain a seat in the 86 member powerful clerical body.
(with material from AP, moi.ir)
RFE/RL Briefings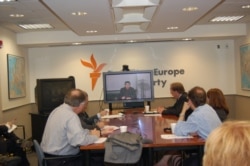 BEYOND THE HEADLINES. RFE/RL regularly hosts briefings and discussions with leading experts on our broadcast region. In 2006, some of the crucials topics were gas wars, elections in Belarus and Ukraine, Iran's nuclear program, and unrest in Central Asia....(more)
SUBSCRIBE
To receive RFE/RL briefing invitations and reports by electronic mail, send a message to
dc-response@rferl.org
with "Subscribe" in the subject line.