Former Bosnian Croat Leader Released On Bail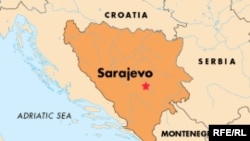 (RFE/RL) December 21, 2006 -- A former member of Bosnia-Herzegovina's tripartite presidency, Dragan Covic, has been released on bail after being sentenced on November 17 to five years on charges of abusing his powers.
The Bosnian state court said that the bail was set at 1.6 million euros ($2.1 million).
He was found guilty of helping a local company evade taxes of nearly 1 million euros.
(AFP)