Baghdad Car Bomb Kills At Least Eight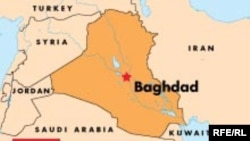 (RFE/RL) December 27, 2006 -- Iraqi police say a car bomb exploded in eastern Baghdad today, killing at least eight people.
Police say the car was parked outside a restaurant in a crowded commercial area of the capital when it exploded.
Initial reports say all of the dead are civilians. At least 10 people were wounded in the blast.
(AP, Reuters)