Ukraine Validates NATO Referendum Petition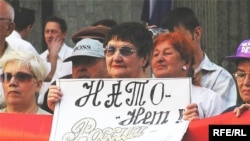 An anti-NATO protest in Crimea in June (RFE/RL) December 29, 2006 -- Ukraine's Central Election Commission has approved a list of signatures demanding that a referendum be held on whether Ukraine should join NATO.
Commission Chairman Yaroslav Davydovych told reporters in Kyiv today that the commission validated 4.43 million signatures -- well above the 3 million required to initiate a referendum in Ukraine.
The signatures were collected by the Social Democratic Party of Ukraine, which is strongly opposed to the country entering NATO.
Davydovych said the petition will be forwarded to President Viktor Yushchenko.
(AP, Interfax, ITAR-TASS)

2006 IN REVIEW: A photo gallery of key news events of 2006 from across RFE/RL's broadcast region. ...more