Manager Meysam Zamanabadi and editor Mohammad Zomorodian were detained on December 28 for allegedly posting images of Iranian Vice President Esfandiar Rahim-Mashaei participating in a ceremony in Turkey where unveiled women were dancing.

Men are prohibited from watching women dance or sing under Iran's Islamic laws.
The two iranews.org managers were reportedly released on December 30.

Reports say Zamanabadi was freed without bail and charges against the editor, Mohammad Zomorodian, were dropped.
Smear Allegations
Rahim-Mashaei heads the country's Tourism and Cultural Heritage Organization.
He has since filed a complaint in which he accuses lawmakers Emad Afrough and Saeed Abotaleb of conducting a smear campaign against him by distributing the footage. He said they edited the video in an attempt to give the impression that he attended the entire ceremony.
Rahim-Mashaei says he left when the dancing started, and he insists he did not applaud the dancers.
Websites Reined In
Meanwhile, Iran's Culture Ministry has announced that as of January 1 all Iran-based websites and blogs must register their Internet address with the ministry.
The announcement has led to protests among media rights activists, who see it as an attempt by the authorities to tighten their control of the Internet.
The spokesman of the Tehran-based Society To Defend Press Freedom, Mashaollah Shamsolvaezin, has described the move as a violation of Iran's consitution.

(with additional material from iranews.org)
U.S. Report On Global Human Rights
U.S. Report On Global Human Rights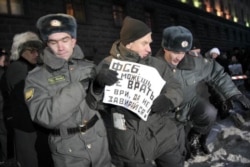 Police in Moscow arrest human rights demonstrators on February 1 (courtesy photo)
THE RECORD ON RIGHTS: On March 8, the U.S. State Department issued its global report on human rights. According to the report, 15 years after the breakup of the Soviet Union, human rights are improving in many post-communist countries. But problems persist in others, it says, despite the worldwide explosion of information and Western efforts to spread democracy. (more)
For more detailed information, see:
Azerbaijan Cited For Political Harassment, Police Brutality
Child Labor, Human Trafficking Cited In U.S. Report On Afghanistan
U.S. Says China, Iran 'Most Systematic' Rights Violators
Human Rights Not A Priority In Central Asia, U.S. Report Says
U.S. Report Points To Serious Abuses In Iraq
Abuses In Chechnya, Centralized Power Cited In U.S Report On Russia
U.S. Says Serious Human Rights Violations Occurring In Iran



SUBSCRIBE
For a regular review of civil-society developments throughout RFE/RL's broadcast region,
subscribe to "RFE/RL (Un)Civil Societies."