The White House and Defense Department have not confirmed the changes, but U.S. media and administration officials have said they will include appointing Admiral William Fallon, currently head of the U.S. Pacific Command, to replace General John Abizaid as chief of the U.S. Central Command, which is in charge of U.S. military operations in Iraq and Afghanistan.
The reports say Lieutenant General David Petraeus is expected to take over from General George Casey as the leading ground commander in Iraq.
On the diplomatic side, the reports say current U.S. Ambassador to Iraq and former Ambassador to Afghanistan Zalmay Khalilzad will be nominated to be the new U.S. ambassador to the United Nations.
Ryan Crocker, the current U.S. ambassador to Pakistan, is expected to replace Khalilzad in Baghdad, according to the reports.
And Bush is expected later today to announce that John Negroponte, a former ambassador to Iraq, is leaving as director of national intelligence to become deputy secretary of state.
Officials say retired Vice Admiral and intelligence official Michael McConnell will replace Negroponte as intelligence chief.
Bush has said he expects to deliver a speech next week unveiling a fresh Iraq strategy. Officials have said Bush is considering whether to deploy thousands more U.S. troops to Iraq in a bid to bring security.
(compiled from agency reports)
The International Coalition In Iraq
The International Coalition In Iraq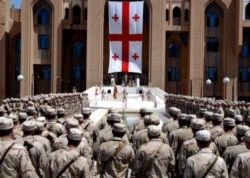 Georgian soldiers marking Georgian Independence Day in Baghdad on June 6 (epa)
COALITION MEMBERS: In addition to the United States, 28 countries are Multi-National Force-Iraq (MNF-I) contributors as of May 31, 2006: Albania, Armenia, Australia, Azerbaijan, Bosnia-Herzegovina, Bulgaria, the Czech Republic, Denmark, El Salvador, Estonia, Georgia, Italy, Japan, Kazakhstan, Latvia, Lithuania, Macedonia, Moldova, Mongolia, the Netherlands, Poland, Portugal, Romania, Singapore, Slovakia, South Korea, Ukraine, and the United Kingdom. Fiji is participating as part of the UN mission in Iraq. Hungary, Iceland, Slovenia, and Turkey are NATO countries supporting Iraqi stability operations but are not part of MNF-I.
NON-U.S. MILITARY PERSONNEL IN IRAQ: United Kingdom, 8,000 as of May 26, 2006; South Korea, 3,237 as of May 9, 2006; Italy, 2,900 as of April 27, 2006; Poland, 900 as of May 30, 2006; Australia, 900 as of March 28, 2006; Georgia, 900 as of March 24, 2006; Romania, 860 as of April 27, 2006; Japan, 600 as of May 30, 2006; Denmark, 530 as of May 23, 2006; All others, 1,140.
(Source: The Washington-based Brooking Institution's Iraq Index of June 15, 2006)


THE COMPLETE STORY: RFE/RL's complete coverage of events in Iraq and that country's ongoing transition.
RADIO FREE IRAQ: To visit the Arab-language website of RFE/RL's Radio Free Iraq, click here.